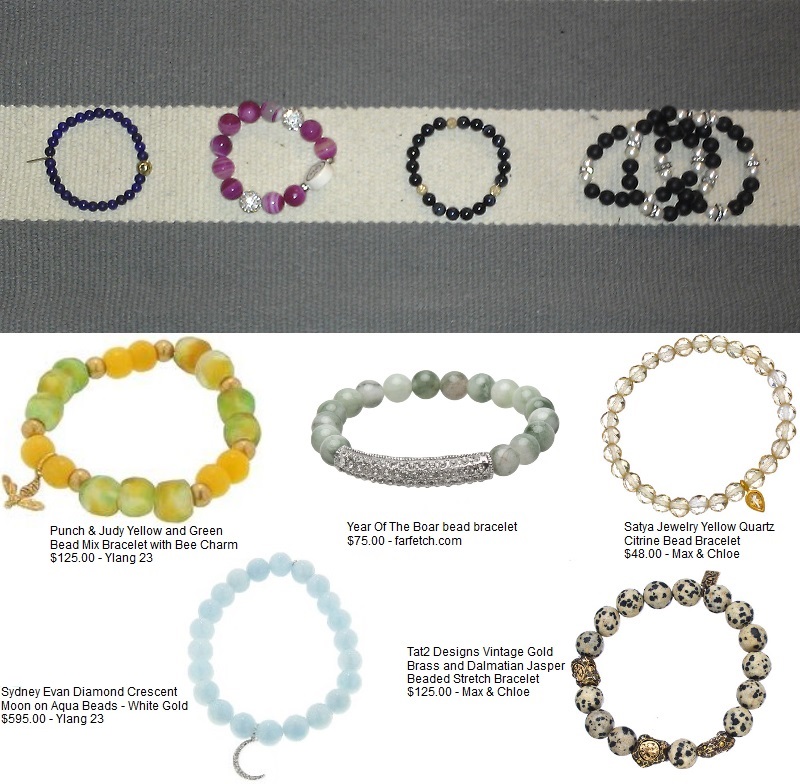 FROM MY WRIST COLLECTION
I love a little wrist love and there's nothing better then having a number of stacks together to showcase your fabulous arms! I had to share some of my favorites that are in my personal collection across the top. From the left, Nagicia has a rich navy hued bracelet with a fabulous gold bead. This is a great go to piece for me to wear during the spring and summer no matter what look I am going for. During NYFW, I was gifted a super cute and very bold pink bracelet from Debbie Merle Designs which is comprised of striped agate (I am a huge fan of this stone) and crystal rondells. Right before NYFW, I was gifted from Beso Beso which is a fabulous rich dark greenish hued stone that has a bit of bling with its pave crystals. This was the perfect Valentine's Gift to receive and is begging to be layered with a number of pieces in my collection. The final winner in my collection comes from a designer that I have admired for years and can say that I love her friendship and her spirit which comes out in a number of her pieces. My large onyx ring that I wear comes from her collection and these bracelets which are 3 fabulous black beads with Swarovski Crystals, comes from none other than Ana Reign!
WHAT I'M LOOKING TO ADD TO MY WRISTS
As an Accessories Expert, I can never have enough pieces and I'm always looking at how to rotate in a number of different items to rock whatever I'm looking to wear. I fell in love with Punch and Judy a few seasons ago and love the hues within this yellow and green piece which is very much so on trend. Keeping it neutral while glisteny with this elongated stunning crystal is what you'll find in this Year of the Boar. Satya Jewelry takes the beaded bracelet to another level with its use of some of my fave materials Yellow Quartz Citrine! Continuing on with a pop of color, aqua is always a great piece to have in your wardrobe and this one by Sydney Evan which has a fabulous embellishment of a Crescent Moon which is very old world and creates an aged and storied quality to it. Finally, I love a beaded bracelet that brings a great amount of bling by combining a number of elements together. Tat2 Designs has Vintage Gold Brass and Dalmatian Jasper which will be the essential go to piece from Little White Dresses (LWD), paired with denim or any of your favorite boho chic combos!