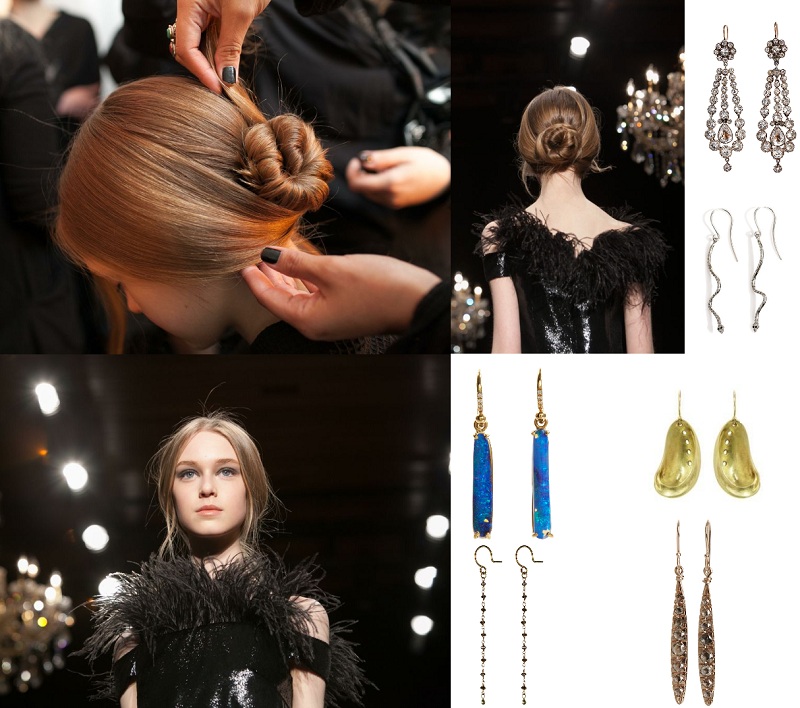 It's Oscar Week! Throughout this week celebs will hit a number of luncheons, gifting lounges and more. The Academy Awards will air at 8pm this Sunday with red carpet coverage starting at 1:30pm! We'll be tweeting talking about who's wearing what and a number of other tidbits. Leading up to it, come here to find out how to get red carpet worthy whether you're attending viewing parties or want to know how to glam it up for a major red carpet event or times when you know that all eyes will be on you in casual settings. This falls into my belief of "nuvo glam" I love how you can mix fabulous items with casual pieces (which Oscar Week is full of a number of activities that are relaxed) or key pieces that work well with glam.
Over the last few days, it's been all about NYFW (continue on with Fashion Week by checking out what's going on in London) and I love that although there are a number of items that aren't available until Fall 2013 - many of the beauty looks can definitely be rocked now! As you know, I covered Houghton Backstage and fell in love with the hair (Relaxed Elegance) that was created for the show by. Once again, I had to share the looks that were created via their Lead Stylist Joseph DiMaggio and the rest of his L'Oreal Professionnel team with its new product, True Grip.
CREATE THE DO
To create this look, DiMaggio poured a liberal amount of the NEW L'Oréal Professionnel True Grip Texturizing Powder ($15; .25 oz.) into a bottle of L'Oréal Professionnel Volume Expand Leave-In Spray ($24.00; 4.3 fl. oz.) for grip, hold and foundation to the style. The mixture was sprayed generously from roots to ends. After drying hair with blow dryer, hair was then split into three sections, two over the ears and one over the nape. The back section was then braided, then twisted and pinned into a low bun.
DiMaggio then pulled one of the remaining side sections towards the neck while loosely covering the ears, wrapping hair under and around the bun. The same step was repeated for the remaining side section. L'Oréal Professionnel Infinium 3 hairspray ($24.00; 11 oz.) was then spritzed all over for hold, and finished-off with L'Oréal Professionnel Perfect Shimmer ($21.00; 5.8 oz.) for shine. "I love the look Joseph created," said Polk who who has collaborated with the brand's session styling team for three ready-to-wear seasons. "Joseph and I created a pulled-back look for the show that was clean and simple but had slight notes of the [collection's] inspiration."
ACCESSORIZE THE LOOK
As many of you know, I don't wear earrings; however, there are times when they are a must and with this look for your hair, you have to adorn your neck with more than necklace. I have rounded up some fabulous earrings that are perfect from running to lunches and of course the red carpet of the Oscars! Olivia Collings ($10,450; Barneys New York) has fabulous paste earrings that are antiqued and have a great chandelier effect. If you're looking for something a little edgy, including Ileana Makri ($2,409; Matches) white gold and diamond snake earrings. For a pop of regal color, add Irene Neuwirth ($9,260; Barneys New York) with these Boulder Opal Long Earrings. One of my favorites in this spread for a fun gifting lounge, these Small Abalone Shell Earrings in 10kt Gold by Annette Ferdinandsen ($1,230; Ylang 23) are amazing to wear with fun dresses and jeans. For sheer elegance, these diamond earrings from Me & Ro ($900; Barneys New York) are a great way to add a touch of chic to your look. Finally, fabulous bling can be found with Fabrizio Riva ($1,395; Barneys New York) in brown diamonds which are so decadent with these long earrings.