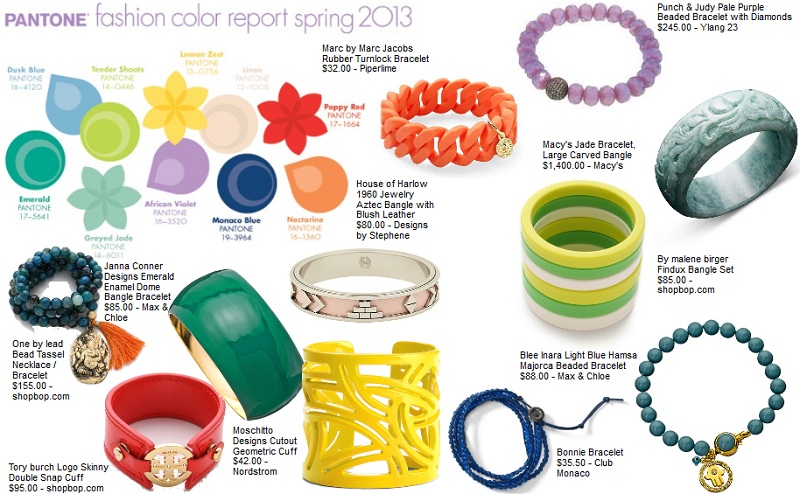 My bracelet collection continues to grow and when I add to it, I definitely select items that I love but it's always good to know what hues are on trend! Especially when it comes to wanting to try a new color, doing this within your bracelets can be a nice transition within other accessories and then into your attire (if you choose). Pantone's Fashion Color Report Spring 2013 is a great place to see the dominant colors for this season. These hues reflect what colors were dominant on the runways during Fashion Week and are further broken out by men's versus women's! What colors are in for spring and what brands can assist you in rocking the hues? Of course, I have included my favorites as regardless of the chill, we know that Spring is around the corner as we finish NYFW FW2013 shows.
As you know, Emerald is Pantone's color of the year which you will find as a colorful theme throughout the year. Rock it by wearing this Emerald Enamel Bangle Dome by Janna Conner. My favorite hue within the picks for Spring 2013 is Dusk Blue - it's perfect for wearing with jeans with all white items and any kind of preppy/boho style. I'm obsessed with Blee Inara's Light Blue Hamsa Majorca Beaded Bracelet as this is great for stacking with a number of pieces. The fact that blue is included twice within the hues to watch is exciting and I love this beaded Bonnie Bracelet by Club Monaco which is Monaco Blue.
Moschitto Designs Cutout is a vibrant Lemon Zest which is a great way to add an unexpected pop into the look. Spring Green is a great color and I love that it is included within the stack of bangles by Malene Birger which allows you to wear them all together or to simply wear them by your desired color (this stack has Lemon Zest within it as well which is a great way to showcase both hues). A classic hue that works well no matter the season, Poppy Red, can be found in this Tory Burch wrap cuff. From red to Nectarine Orange, this is another vibrant hue and one that can be rocked with this Marc by Marc Jacobs in this Rubber Turnlock Bracelet. Blend both colors from Spring 2013 together from Monaco Blue and Nectarine Orange with this One by Lead Bead Tassel Bracelet/Necklace (which gives you options.
Round out the Spring hues with your arm candy with Linen which is a crisp color and a great leather Aztec Bangle House of Harlow. Grayed Jade is a fabulous muted hue that's perfect for Spring and can be brought into your wardrobe with this Carved Jade Bangle. Finally, African Violet is also within this list and can be rocked this season with this Punch and Judy purple beaded bracelet with diamonds.