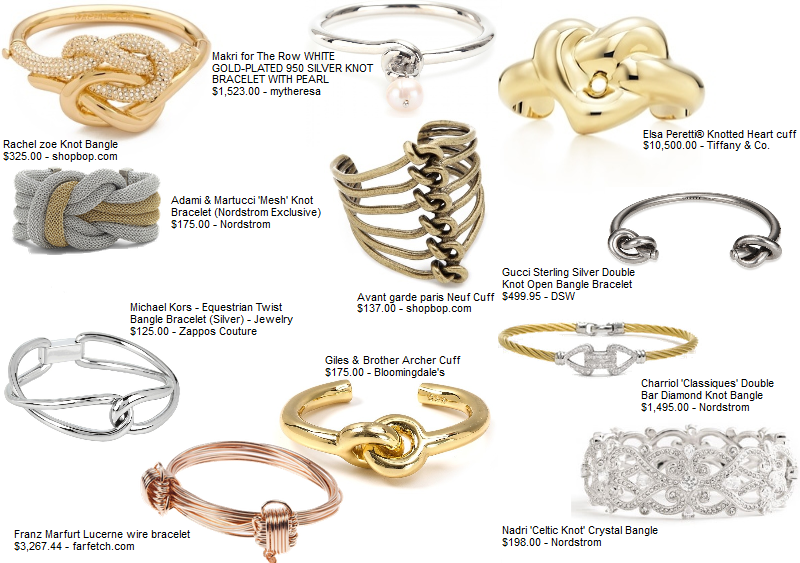 Who doesn't love a fabulous bracelet that has knot details on it? Whether you love wearing a Celtic Knot or simply like having this adornment on your wrist, this is a must have to rock this Spring/Summer season and is truly a classic! I have a number of faves that I'm loving with mixed metals, embellishment and more whether you're rocking jeans or having fun layered looks for a night out. Although the knot style is classic, this doesn't mean that there aren't elaborate ways that this can be worn from a simple knot to those that have more depth in order to rock out your accessorized style.
Starting with the simple knots, I like the Makri White Gold Bracelet which has an additional embellishment of a pearl. It's such a streamlined look that works well with a number of your looks. This simple double knotted sterling silver bangle by Gucci is a great open when you want a bit of a twist as well. Simple knots continue with Charriol's Double Bar Diamond Knot which is also great as a stackable. Another simple knot which is an Equestrian Twist Knot Michael Kors piece which looks great with a number of looks. Giles & Brother Arch Knot Cuff is a great way to add a bit of gold bling for a bold look.
For those that opt for intricate knots, there are a number of suggestions to help build this portion of your jewelry closet! Rachel Zoe's Knot Bangle is the perfect combo of gold and bling together! Adami and Martucci have a fab knot bracelet that involves a mesh material which is a great way to try this trend out! The knotted heart by Tiffany and Co is a great bangle to add to your collection.
Finally we have a collection of knots that definitely add a bit of drama. The simple knots that were mentioned before are increased within this fabulous bracelet by Gar-De. For those who like the celtic trend, this Nadri bracelet has these classic elements to wear with whatever you will be heading off to. Finally take knots that are typically done when sailing into this piece by Franz Marfut Lucerne wire bracelet in a great rose gold hue.