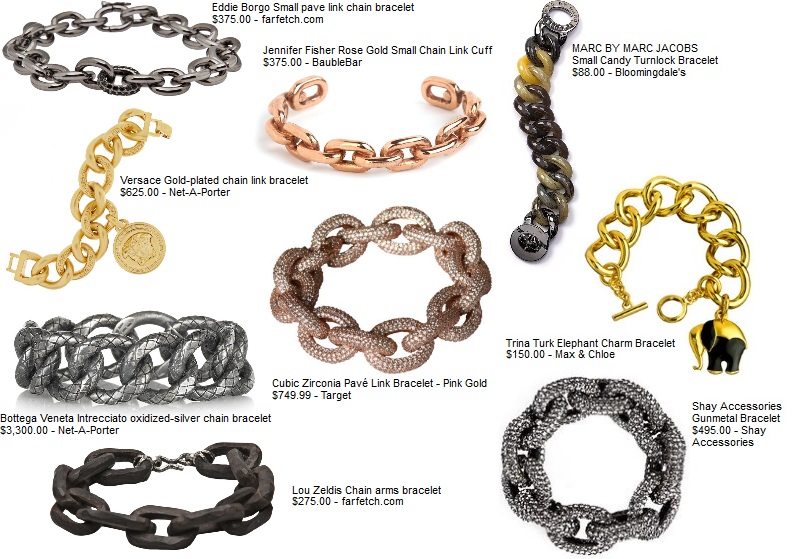 Back in November, I pre-ordered a fabulous chain link bracelet in gunmetal from Shay Accessories courtesy of Bonfaire which is a great place to order a season ahead and to receive it just in time of the season! This classic accessory has always been on trend and now, I'm all about getting a number of these from a variety of designers! Chain Link Bracelets are fabulous to rock on your wrists and are the perfect blend of casual and edgy chic! Here are some of my favorites!
Eddie Borgo puts a twist on this chain bracelet by having a silver finish with one of the links being pave! This bracelet has smaller links as opposed to the large ones that you would find in a piece such as the one I have from Shay Accessories. Another small chain link bracelet is this rose gold Jennifer Fisher piece which is my second favorite metal (to silver of course) and looks great on so many skin tones. Marc by Marc Jacobs has their Turnlock bracelet which has the tortoiseshell look and is perfect to wear with casual outfits as well as those that can be dressed up! The lock feature is great from an aesthetic standpoint as well as to secure the closure.
The gold plated Versace bracelet is the epitome of a classic look with the medallion of the famed house. Bottega Veneta is known for their leather braiding and this chain link bracelet is oxidized silver with this detailing on it as well. I'm a huge fan of pave and love this Cubic Zirconia Pink Gold bracelet which is definitely a super sweet and femme accessory. Trina Turk's chain link bracelet in gold, adds whimsy with this cute elephant charm. Finally, another great chain link bracelet option can be found from Lou Zeldis' black chain link bracelet is another way to put a twist to this classic piece.