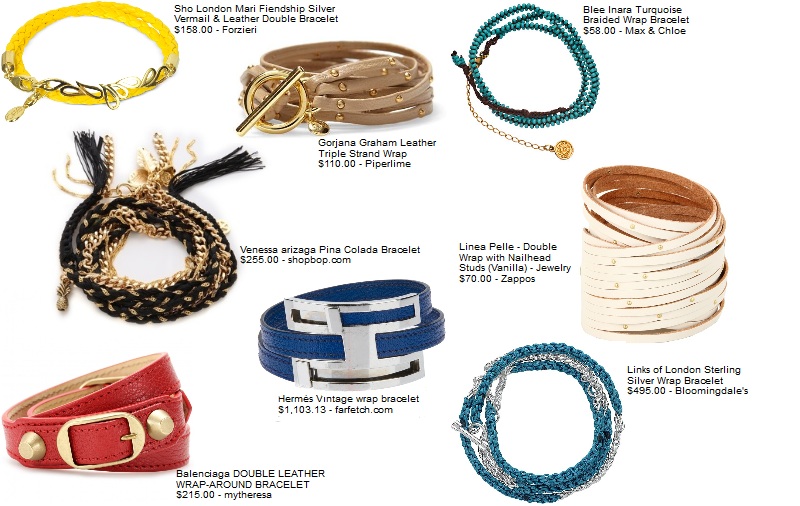 I'm so excited to share a new segment on Kitten Lounge as I'm always asked what bracelets I'm wearing and why! As an Accessories Expert, I have a number of bracelets I love to rock from cuffs, wraps and more. With Spring being around the corner, there's definitely a need to start boosting this part of your closet which allows you to dress up bikinis, maxi dresses and so much more. Wrap bracelets beg to be stacked and worn with a number of pieces whether you're displaying an array of colors, going monochromatic or sharing your colorblocked look.
This season many trends will be on display with a number of hues. I'm loving this silver vermeil and vibrant yellow bracelet from Sho London that has great braided detail as well as that charm effect. When it's about keeping it neutral, you have to consider Gorjana's triple sand colored wrap with ring hardware. Blee Inara has a braided bracelet that has a hanging charm which adds a bit of whimsy to the look with a bold turquoise which is always perfect for the spring/summer. Wrap bracelets come in various forms and I love the mixed media of this Venessa Arizaga which incorporates chain and threads. I love that although this piece is edgy, it has a classic look that works with a number of looks from boyfriend cardigans to simple tanks. When it comes to wrap bracelets, I love those that are thin but I also love the ones that have a bit of depth, Linea Pelle has a fan large wrap that can still mix well with other bracelets and has the look of multiple layers which is a great way to accessorize with the nailhead detailing.
Many of the above looks are boho chic and many times, you want to have heritage brands within the mix which are also including wrap bracelets within their collection. Links of London - they bring together roped braiding with sterling silver which definitely makes it a classic. Hermes has a buckled vintage bracelet that can be worn as easily with jeans as well as cocktail dresses. Finally, I'm loving the buckle detail of Balenciaga which is yet another great classic that you will find yourself gravitating towards.