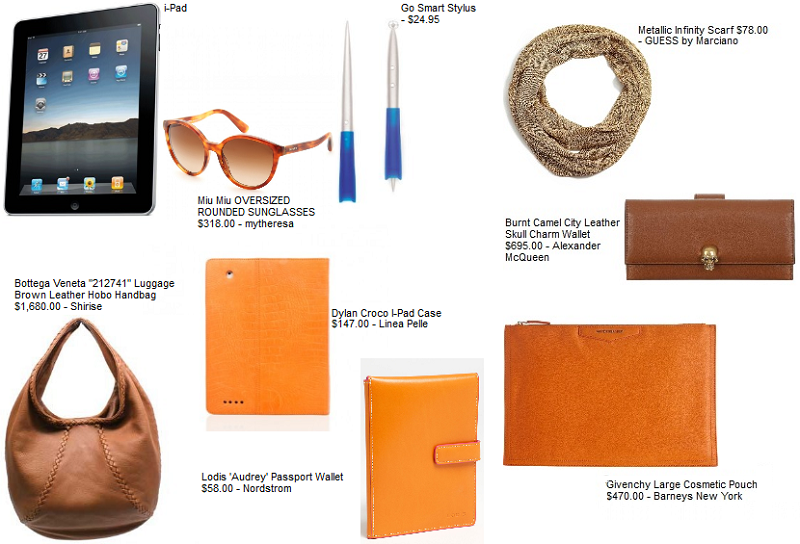 My tech is pretty important to me no matter where I go but during NYFW it's such an essential that I double check to make sure that I have everything. Although I'm so fortunate to live a few streets away from Lincoln Center (one of the areas that NYFW takes place), I can't bank on being able to swing by my apartment when I'm off to shows, presentations, gifting suites and so much more. So I ensure that everything is not only fashionable but I can run my office from anywhere and still hang out with my girls as we touch base between sushi and cocktails (love TB'ing with Raijean, my sister, Makeda, Kitty and more).
So to stay fab and connected, I suggest the following! Like many my iPad allows me to do a number of things from staying on schedule, taking notes, taking some pics etc. Keep it fab by including it in my Linea Pelle (love that they are sponsoring me this season and that you will see me rocking their bags, belts and of course my case) Dylan Croco iPad Case. I'm not an orange girl per se but it's Paul's fave color and I love rocking hues that he loves seeing. I love the Go Smart Stylus which allows me to work on my iPad without using my fingers and to accurately selecting what needs to be done. As I never know when I'm traveling, my passport is always on hand and I enclose it in a vibrant holder by Lodis. All of this can fit into my Bottega Veneta bag which is a fab hobo in a caramel color.
My key accessory is a scarf and I love this one by Guess that works well with a number of looks or if there is a slight chill in some of the presentation areas. I am a huge fan of sunglasses and love this retro oversized pair by Miu Miu. Since I love to do touchups or to build upon a look, I always bring a few more cosmetic items than normal and this cosmetic case maintains a great pop of color by Givenchy cosmetic case. Finally, it's all about a fab wallet as you'll be pulling it out a number of times for whatever reason - no need to stop accessorizing, love this one by Alexander McQueen.
UPDATE: We have a special giveaway for our bloggers - Go Smart Stylus wants to give 4 of their fab instruments away! To enter to win, you must leave a comment below that includes your name, your blog and your Twitter handle. 4 winners will be selected to receive the Go Smart Stylus which allows you to navigate your tablet! We will announce a winner on Feb 7th (the first day of NYFW FW2013).