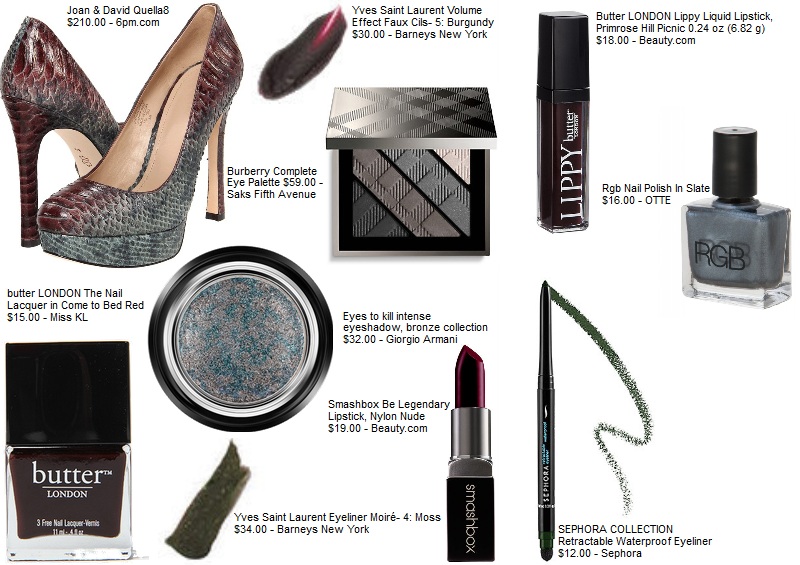 Last week ended a series of projects that were focused on the beginning of the year and with a lot of them closing and transitioning into new projects to start, I had to take a bit of a breather from things and seek a little inspiration after going to a few meetings and events. There was just enough time to take a little personal time and to see what was out there. This time of year is amazing as you're getting items from Spring, carryovers of items from the fall/winter that you may not have received and of course, you start thinking of items that should be hitting your closet! With my initial focus being boots (which didn't happen) I decided to have an open mind to find whatever would catch my eye!
ACCESSORIES INSPIRATIONS
I walked away with a fabulous pair of heels thanks to the amazing sales that took place at Lord and Taylor. Getting these Joan and David Quella heels which are a mixture of burgundy/berry, a mossy green and skate grey in snakeskin obviously gives me ideas on how my accessories can inspire items to add into my beauty case. Joan and David reminds me of classic heritage heels - it makes me think of looking in my mom's closet growing up and seeing heels that were in an array of hues and in my favorite magazines.
GET THE BEAUTY LOOK
With such a mixture of hues there are fab items in your local counters or online that you can purchase to bring this into your beauty case. Butter London is not only a nail polish brand but they also have lip glosses as well - I love how rich their hues are and both allow you to rock the burgundy tone whether you choose Come to Bed Red (the polish) or Primrose Hill Picnic (the lipgloss). Yves Saint Laurent also has two products that are fabulous their Volume Effect Faux Cils Burgundy Mascara and Eyeliner in Moss is another way to rock these hues. Burberry makes a number of grey hues available with this eyeshadow palette. Another great eyeshadow option is from Giorgio Armani and is a mixture of grey and a bit of green mixed in (which reminds of these heels even more).
Finish the look with these great finds. Smashbox keeps your lips richly hued in this burgundy shade. Rock these Slate nails by RGB And finally, pop in a bit of green with this waterproof and retractable eyeliner in green from the Sephora Collection!</a>