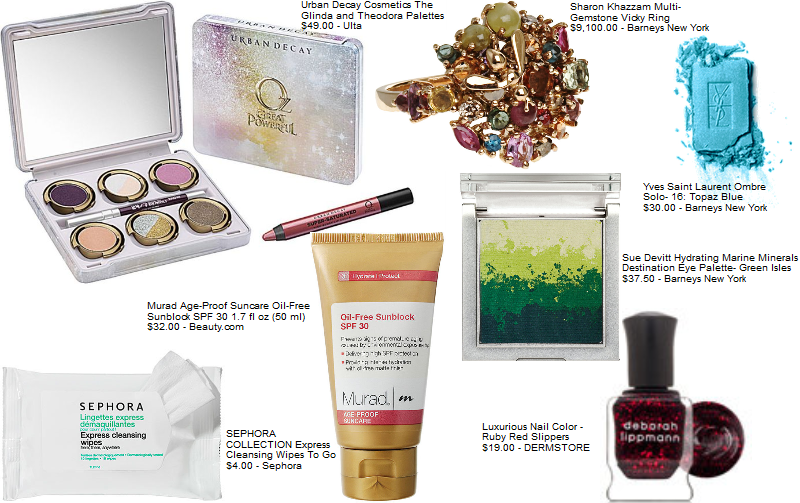 I love my beauty trunks as there are a number of goodies that are in there for any given situation. Since I'm always receiving mascaras, eyeshadows and more prior to their release, I know that whatever look I'm going for is bound to be in one of cases! With that said, sometimes I go for what speaks to me in theory - it's not even lifestyle specific. Right now I'm definitely loving a few pieces that will be included in future outings from traveling, brunch and just being out and about.
<b>ACCESSORIES INSPIRATIONS
</b>
My inspiration comes from this fabulous multi colored cocktail ring which reminds me of a kaleidoscope from Sharon Khazzam who is known for her one of a kind pieces. I love a great ring and many of you know that it's my signature without a doubt. This ring has a number of colors in it which also inspired me when I'm thinking of looking great for whatever the occasion happens to be.
<b>GET THE BEAUTY LOOK
</b>
Last week, I attended HSN's Oz Preview which had a number of brands that had created products for the launch of the movie which is coming out on Friday (so excited). Urban Decay created two kinds of color palettes and I have been loving the one I received which embodies Glinda the Good Witch! The collection comes with eyeshadows, eyeliner and a lip pencil. It's such a great number of hues and I love that everything (minus the lip pencil) can be stored within the case. Another eyeshadow favorite (which is perfect for smoky eyes) of mine is Sue Devitt and although I have the purple version of this, the green Marine Minerals is definitely on trend and a great series of hues to have. Another eyeshadow that I love is YSL's Ombre in Topaz Blue! When I feel that it's a bit bright, I love blending it in with charcoal. Another beauty fave that pulls tones of the ring into this selection is Deborah Lippmann's Ruby Slippers which is a rich garnet with a bit of shimmer.
Obviously great skin is maintained skin! I LOVE cleansing wipes and have a number of brands I use that are amazing in a number of ways. I also carry a to go version with me as there are times where I have to change from one makeup look to another - these Sephora Express Cleansing Wipes are perfect! I think it can never be said enough but SPF regardless of whether the sun is out, regardless of the season and DEFINITELY regardless of your skin tone is an essential. I just started trying out Murad's Age-Proof Suncare Oil Free Sunblock. I love that it has pom in it and is great coverage for the skin.