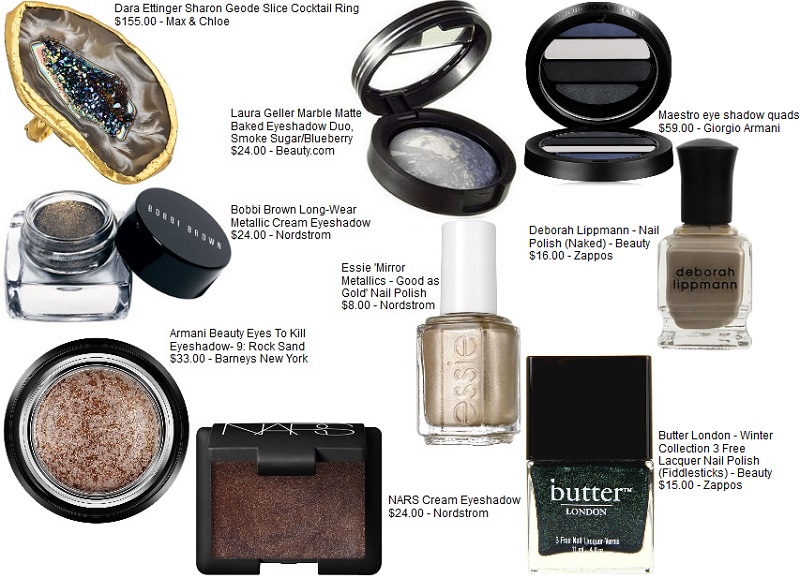 I'm not into overt sparkle but a fab and subtle iridescence, I'm all about that without a question! I love that it translates well whether you're talking about day or night. These are some of my fave beauty items that look well on a number of skin tones and add a bit of pop to the overall look! Today's spread focuses on two of my favorite things - eyeshadow, which I typically do not wear but when I feel there is a need to be made up, this is my go to. The other, my essential beauty accessory - nail polish and as always preferred in a rich dark color with a bit of shimmer in it!
ACCESSORIES INSPIRATION
All of my faves are inspired by this fabulous Dara Ettinger Sharon Geode Sliced Cocktail Ring which has a great neutral with a fabulous mix of colors that bring out little elements of your personality and what you want others to know about you. As always my ring is one of my main accessories to rock as I think it's a great conversation piece and it sets the tone of my look and gives a lot of indication into my personality.
GET THE BEAUTY LOOK
Eyeshadow is something that I love but in my 5 mins get up and go routine, rarely do you see me rocking it day or night which is interesting as my eyes are definitely something that I focus on. But when it's a moment that I need to step it up whether day or night, you'll see me rocking mega notice me eyeshadow OR when I am doing my appearances or segments. I am a huge fan of what is called the Marble look. This is because it's fun to mix it with other hues when I'm feeling my inner makeup artist and yet I can just wear it on its own as it's already infused with a number of hues. Nobody does it better then Laura Geller with her Baked line. I have been wearing it for years and I feel it's an essential. Other faves include Giorgio Armani's Maestro quad eyeshadow - which has a great pop of blue and I love that charcoal hue which is one of my faves to wear. For their take on marbelized, Armani Beauty's Eyes to Kill has a great golden tone with a pop of bronze. Bobbi Brown has a fab metallic hue as well which is more of a gold - think fun disco chic. Finally everyone needs that bronze look as worn alone it smouldering and when layered with other eyeshadows it's super decadent! Nars' eyeshadow in cream is an essential within my cosmetic case.
When it comes to nail polish, you'd laugh if you saw how many colors I have and how many hues I have that are only slightly different from one another. I have a series of colors that I love to wear and they all tend to be in the dark spectrum but the amount of variety that I have within this area is pretty eye opening. In terms of variety, there are hues that I have that I tend not to wear unless it is being requested by someone for something that I'm working on. For those that like a great neutral, Deborah Lippmann which is Naked. A great toned down gold shimmer is Essie's Good as Gold. Now of course, when I'm not asked to wear a specific hue, then I love going to my faves. Butter London is one of my favorite brands to wear (but you'll also see me rocking the other two as I think they have great coverage, last for a great amount of time and they look AMAZING). They have such a range of color and this fabulous green shimmer has the bling effect with a great rich hue. If I'm not in a high shimmer/rich hue then I will go the other way with a color that is so dark that it has tones of black in it with a shimmer so it doesn't have a matte effect.