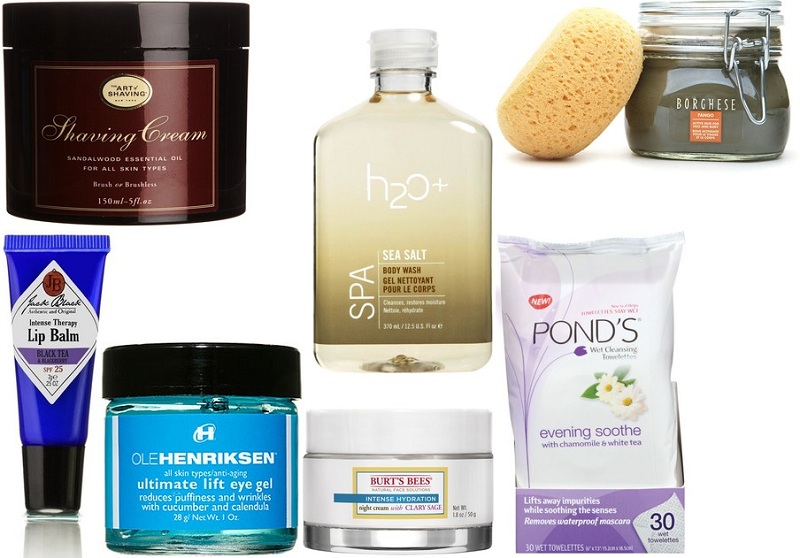 I'm always talking about what I love but I have to share what works well with men and their beauty routine. "Skin is Skin" is something that I say a lot. Although I love that my boyfriend enjoys trying a number of the beauty items that come to me, there are times when I am baffled by the lack of a consistent lotion regimen. When he wonders why his skin is dry, I tell him that skin is skin - all skin regardless of race or gender needs moisture! Fortunately, I'm so happy that there are a number of items that he does love without me saying a word. In addition, there are a few items that I highly suggest. Especially in the colder temperatures, it's essential to find what works!
The Art of Shaving Sandalwood has a fab shaving cream that leaves an amazing smell and I love that Paul loves using it. I love that it leaves his skin soft. I use separate exfoliants for my face, body and even zone areas (I love certain items for tush and legs that are different from the rest of my body - what can I tell you, I love product). For him, I suggest in an effort to introduce and simplify, Borghese Active Mud for Face and Body is a great way to get this into the routine while also saving space which is important. Plus it's good for everything. For a body wash, I suggest H2O Plus Sea Salt Body Wash is a great cleanser to use and is perfect to have in the shower especially when you and your boyfriend live together so that you don't have to have a number of bottles sitting in such a small NY space.
I think the eyes are essential and I love that Ole Henriksen Eye Lift PM Gel is a great way to begin restoring your face (Pro Tip: Many of my gels sit in the fridge so that I have a nice cool feeling when applying the product at night or when it's the summer). Even if eye sagging is not an issue, I believe in preventative maintenance and am a fan of a number of the products within this line. When it's time to call it a night, I love that Paul loves keeping his face fresh by cleansing it with a Pond's Facial Wipe. This version has lavender which is calming. When I wipe off with a cleansing wipe, I still like to have a moisturizer, I highly suggest Burt's Bees Intense Hydration Night Cream - this has Clary Sage and is a nice aroma mixture with the lavender. Finally, lips are my other love! I use lip balm throughout the day and I always put on a healthy coat at night. I highly suggest Jack Black as they have an entire line that's phenomenal and good for you and him. My personal favorite is Black Tea!