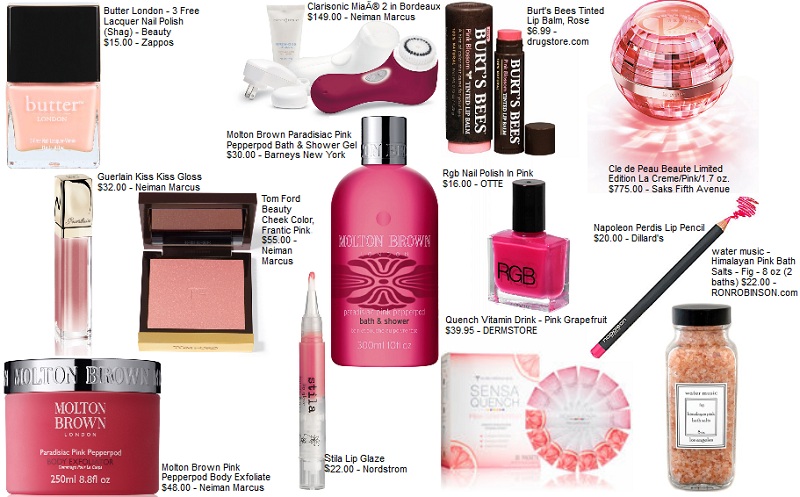 New York Fashion Week comes to a close today although I know there are a few events still taking place tomorrow and over the weekend. My NYFW will come to a close officially tomorrow morning! It's been an insane schedule of shows, presentations, dinners, face time with brands who sponsor me and more. When NYFW comes to a close, I definitely think of spa-ing it up but I also love playing with a number of items that I have at home! With the crazy schedule, I have to lay out everything I have and plan for multiple changes in a day and now with it also being Valentine's Day, I thought it would be nice to have a pink beauty infused post!
I'm all about exfoliating and having amazing skincare product for the shower. Molton Brown has a Pink Pepperpod which is girly and yet has a spicy element that those who share with their boyfriends can enjoy showering and exfoliating scrub with these two products! For those who opt to enjoy their bathtubs, I'm obsessed with these Water Music's Himalayan Salts which is perfect to soak in!
If you have yet to enter the world of the Clarisonic this is definitely a time to do so! They have such a variety of brushes to use whether you just want it for your face or you want to buy the version that has interchangeable brushes to go between the face and the body. Moisturize your face with this limited edition Cle de Peau cream. Since you're getting ready for a fabulous night out whether spending it with your significant other, friends or final NYFW events - sip on Sensa in Grapefruit which is a great nutritional supplement to enjoy.
When it comes to your makeup look, there are so many ways to bring a pop of pink into your look! Your cheeks can have pink blush with Tom Ford Beauty's Frantic Pink which is great on a number of skin tones (my personal tip is if you feel that you have too much pink, mix it with a bronzer which adds a subtle hue). Lips have a number of options including: Guerlain Kiss Kiss Gloss, Stila Lip Glaze, Burt's Bees Tinted Rose and Napoleon Perdis Lip Pencil.
Finally, lips can't have all the fun, nails have a fun range of hues as well from the lightest of pinks to those that are bolder. My personal favorite in terms of brand is Butter London in Shag and RGB in a vibrant pink.