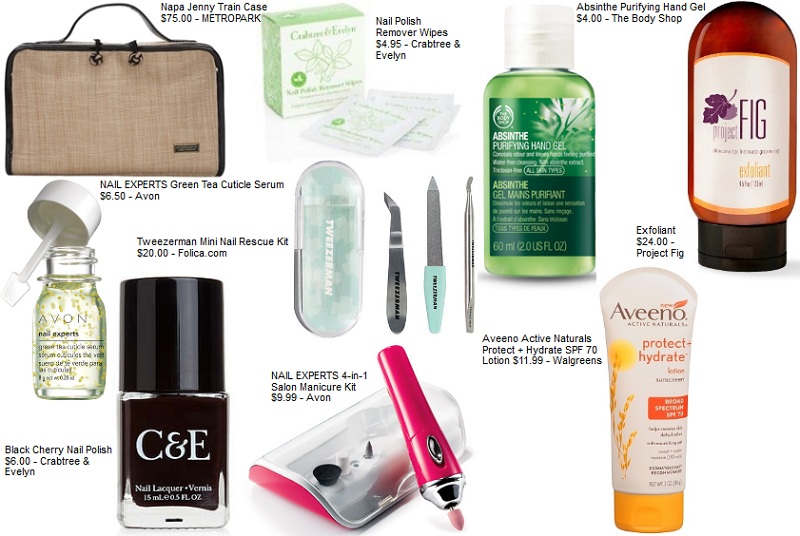 Hands are a key part for our beauty look as they do some serious double duty as they showcase our rings, we use them to gesture and more! I love getting my manis done at a salon; however, there are times when I do it myself due to a quick change or simply wanting to do it. With that said, here are my must have picks when it comes to have the necessary items whether you're doing it from the beginning or just doing something quickly!
First off, I love making sure that everything has its proper container. I have a been a fan of Stephanie Johnson for years and keep all my nail care items within her cases as it's easy to transport as well as it allows me to see what I have. She has so many styles and fabrics, it's fun to have a number of collections and is a must to keep things organized at home and when you travel.
When it comes to tools, I love the Nail Experts 4-in-1 Salon Manicure Kit which fits easily in the hand by Avon and I always have my Tweezerman Mini Nail Rescue Kit as well. When it comes to prepping your nail for a polish change, I am OBSESSED with Crabtree & Evelyn's Nail Polish Remover Wipes which contains one wipe per packet. Each packet has quite a large removal wipe which allows you to clean all 10 nails and it doesn't have that medicinal smell! At first, I thought that the wipes were dry but note that there is plenty of solution on them to do the job. In addition, to ensure that your cuticle and nail are nourished, use Nail Experts Green Tea Cuticle Serum which is also available at Avon. I placed this on the cuticle and rubbed it in and then continued to apply it across my nail.
One of my favorite hues that I'm rocking currently is Crabtree & Evelyn's nail polish in the hue Black Cherry! I love how rich and dark it looks and how it spreads evenly across the nail.
Continuing to take care of your hands is an essential even when you're not updating your mani! Hands stay smooth and amazing when you exfoliate them. I suggest using Project Fig as it has a great smell. I love making sure that my hands stay clean with The Body Shop's Absinthe Purifying Hand Gel has a cooling effect and a slight musk/sage smell that works well for men and women. In addition, I am a huge believer in making sure that my hands are moisturized and why not do it with a bit of SPF (they have 30, 50 and 70)! As today is the last day of January, you may not have known that these past 30 days were actually a part of National Oatmeal Month. Aveeno is an oatmeal based product that many with sensitive skin enjoy using due to its benefits. Although my skin isn't sensitive, I do love the nourishing value that comes from the ingredients and love putting this in my routine!