At any given time, I'm always waiting for packages whether it's a beauty set that I have been thinking of working into a piece, accessories that I am looking to wear for a number of events and various clothing options for upcoming events. I couldn't tell you how much time is spent logging in items whether it's samples that stay, those that will be here for a set time or "options". All of it gets placed in a spreadsheet so that we can organize when everything will make its way to the site depending on the Editorial Calendar. Our new segment, "What We've Logged In" gives you a peek into what we will be sharing on the site later and what we brought in. Although every item will not be included within this post, I'll select our fave within the past week or a fab piece I've been excited to get!
A few weeks ago I was introduced to Bonfaire and as an Accessories Expert, I can say that if you're looking for a site where your favorite luxe brands or those that you are not familiar with but will grow to be your fave, then this is the site to do it. More importantly, when you order items, you will get to do so in advance and get it at the designated season. In November, I selected a number of items and was eager to get this fabulous Pave Gunmetal bracelet ($495) that has a chunky links which are so trend from Shay Accessories!
As a side note, every so many weeks a number of designers are offered within a window of time. Each designer has a different delivery. A number of designers in November were offering items with a Spring/Summer delivery and yet there are times when something if offered that has a much closer window! After selecting the item you like, you have to pay a deposit of 50% and when the item is available and ready to ship, you pay the other half of the deposit.
I knew this would be a signature piece and you will see it in action later on this week as I will attend a private performance of a play. It's a lot of will power to purchase in November and not to get it until Jan but the day arrived (now I will be anticipating a super cute bag I purchased in Nov with a delivery of March)! As many of us are familiar with subscription boxes and other flash sale sites, I wanted to know what to expect from Bonfaire as this company has only been available since summer/fall of 2012.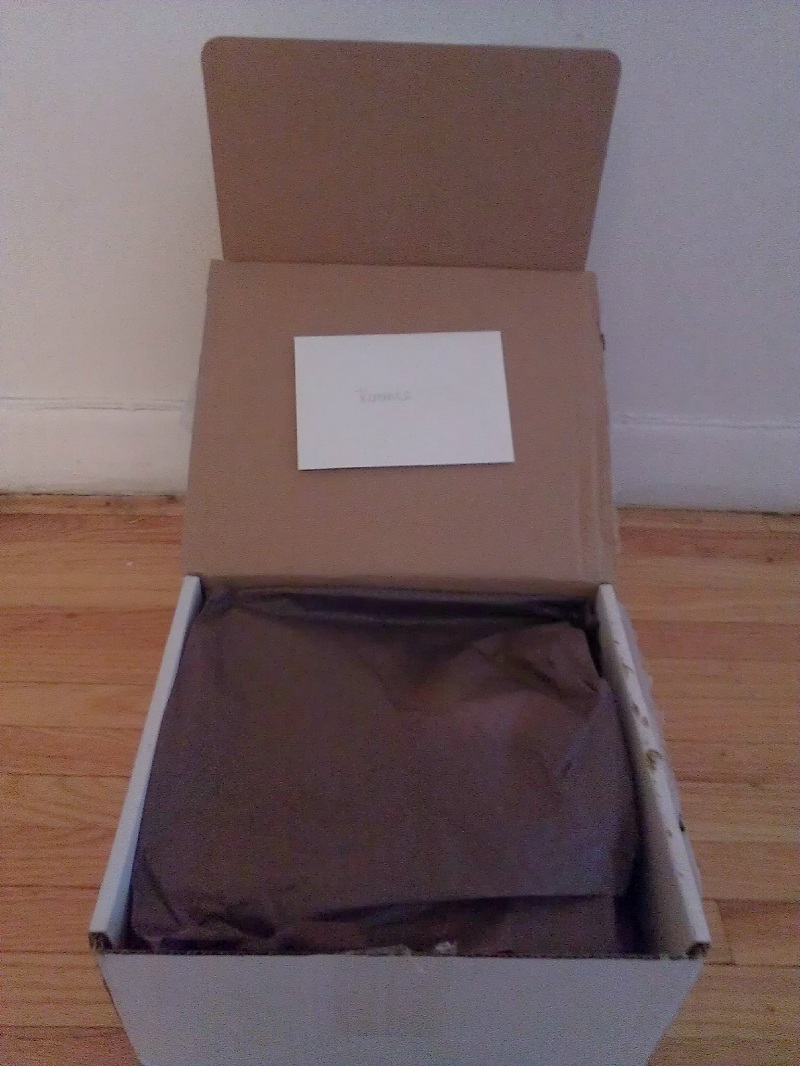 As I opened the box, I love that there was a envelope with my name attached to the box with brown tissue paper. In addition, this note was handwritten and also acknowledged that this was the first item that I had received from them. Now many times I receive handwritten notes and there is something personal about me in it; however, these are typically because they are coming from a PR firm. Regardless of whether you're media or not, each person will receive a personal note on their first purchase and I will let you know about the second item and how that is!
My fab bracelet came in a branded brown box with a cream flat bow wrapped around it.
Sitting on its little jewelry pillow (not the technical name but that's what I call it) is my new gunmetal bracelet that I am sure you'll see me wearing!
Such a fabulous piece and I couldn't wait to snap a few pics. This bracelet has a nice wait and although I was taking quick images with my camera phone, when it's directly in the light, it sparkles and definitely has a luxe look.
<center>
</p>
If you have yet to sign up for this service, you definitely need to check it out and see which designers are there. Visit Bonfaire to set up your account and thanks to the fashionable team there, they will give you $100 credit which you can use towards the purchase of your next treasure! Note that there are a number of items that are always changing as well as brands have various price points so you never know what you will find and at the time of purchase, you are only playing a 50% deposit down. It's a great way to build your accessories wardrobe right in time for the season that you're most likely to wear it in! Since I have another item coming in a few weeks, I will keep you updated - but it's always nice getting something in the mail that you can't wait to wear!