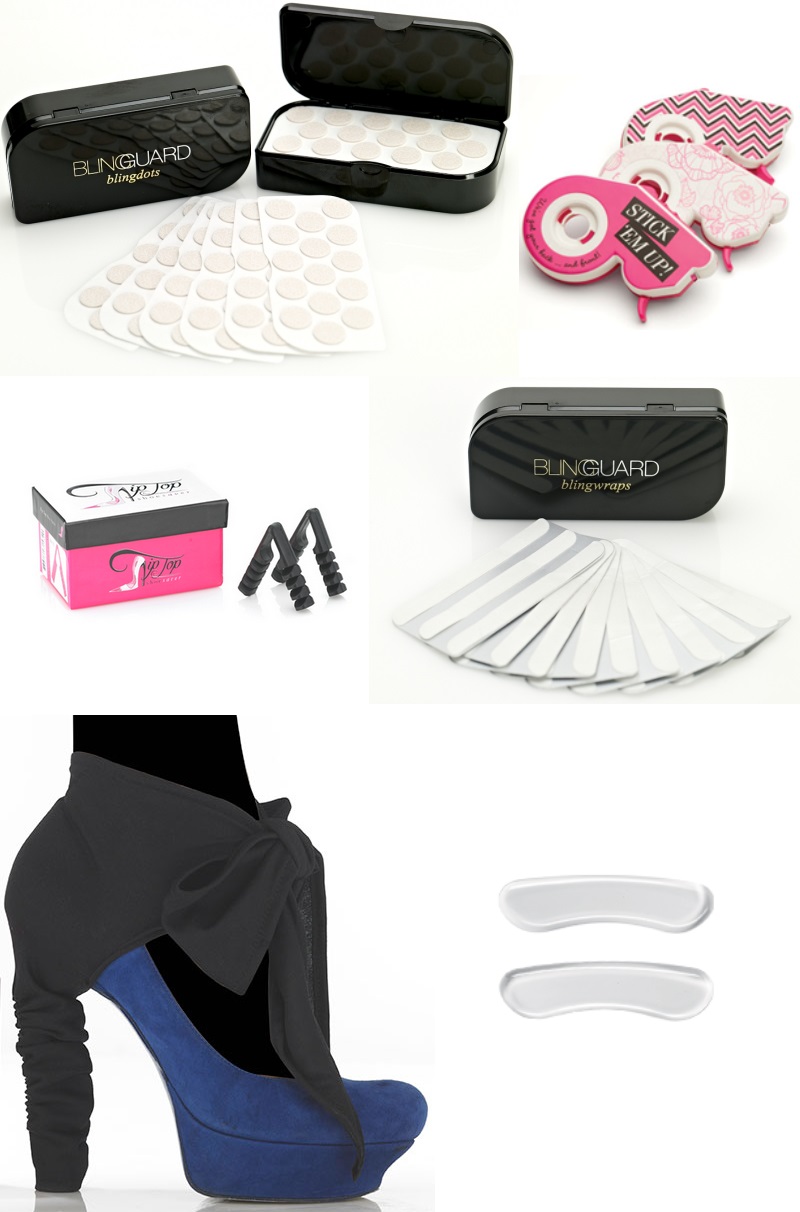 As an Accessories Expert, I'm always checking out new pieces that I want to wear or that I want my clients to wear when I style them! My rule for accessories is the same that I have for apparel. When you find yourself fidgeting in your garments or accessories, that's when you know that you need to make sure that things stay put! I have a growing kit that I use whether I'm going out with friends, going on air, prepping for Shoe Week events or styling clients for their music videos or their red carpet moments. Although a lot of my tricks of the trade are things that I have created myself, I love the items in this list as they are a must whether it keeps you looking fabulous or extends the life of what you're wearing.
Sometimes you do actually see me wearing earrings - although it can be a rare site! My ears are sensitive and I don't like the feel of an earring with weight although I think it's gorgeous to wear a pair of cascading chandelier earrings! To offset the weight and to feel a bit more secure, I highly suggest BlingGuard's BlogDots which have 45 pairs that are disposable and come within a tin. You can also use these on your clip ons, pins, brooches and badges.
I love Hollywood Fashion Secrets' Fashion Tape Refillable Gun as we all know it's great when we have garments that need to stay put whether you're ensuring that a wardrobe malfunction doesn't take place but it also has other uses that are not always about items playing peekaboo on you! When I wear scarves or sashes, I actually use the tape to keep the knots tied so that I don't have to tweak it during the day or night. I also like to use this to secure bra straps, to take the extenders on necklaces and to tape it under my dress so they don't peek out when I wear it.
I'm a rounded toe girl but there are times when I wear a pointy toe and my clients definitely love it. Over time, you'll find that your shoe has indentations as your natural gait will create breaks in the pointed toe area. Tip Top Shoe Saver ensures that you can put these little V-shaped items within the toe of the shoe to keep creases away when you're not in them. Each box comes with a pair and is a must when this is the shoe of choice.
You know that my signature is a fabulous ring and of course, I get them sized when they're my own; however, when I am borrowing jewelry from a brand or styling my clients I have to use BlingGuard BlingWraps! These invisible latex free bands ensure that you're rings won't turn around on your finger or slip - which is embarrassing as no one should fidget and have their accessories work against them. There are 30 bands that come in each box which is always good to have on hand.
For those that are driving around, you always wonder about whether you'll ruin your heels! Tip Top Shoe Glove For Heels (check out their version for men's shoes as well as flats for women) slips up the back of your heel so it's completely protected and wraps around your ankle so that your shoe looks fabulous without worrying about any unnecessary brushing.
Finally, we've all had a shoe that for some reason rubs against our heel or is a little loose in the back. I definitely suggest Avon's Back of Heel Liners has a set of two. This is definitely something that's great to have on hand to ensure that no shoe is deemed unwearable!