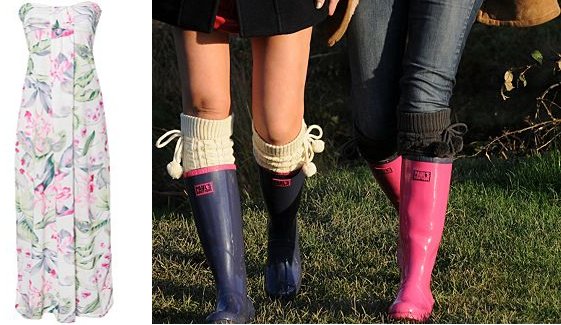 Round up of this Summer's Festival Style
With autumn upon us, we look back fondly at this summer's great festival style. Festivals are a great part of the UK summer time despite the weather! Styles this summer ranged from casual and simple to glamour-packed dresses with powerful prints.
Whether the festival featured the Black Eyed Peas or Def Leppard, there were fashionable outfits everywhere!
Coachella
Coachella 2012 brought a great mix of style. Some festival goers wore simple tank tops and torn jeaned shorts for comfort during the busy days. Another hot style was the bikini top with graphic patterned leggings. The breezy tops kept festival fans cool in the hot weather as they danced to the music of Rihanna and lounged between shows.
Even Harry Potter actress Emma Watson got into the spirit of Coachella. She appeared with a fresh, basic face of makeup, gladiator sandals and Mulberry's Fuzzy Tiger Playsuit. The flirty dress showed off her legs well. What fun style!
V Festival
V Festival in Staffordshire at the end of August brought celebrities Chloe Moretz and Pixie Lott, as well as great summer festival style. The maxi dress was a popular choice, with a range of bright pinks and oranges as well as lively prints. Pieces like Bank Fashion's BLONDE & BLONDE Floral Maxi Dress fit perfectly with festival style.
Festival Accessories
Whichever summer festival was attended, ladies were prepared for the muddy conditions with wellies and packed thick socks for cool nights. Great boots with a pop of colour included Dr Martens Pascal 8-Eye Boots. The chunky rubber soul kept mud at bay while the shade of purple was a kick starter for the day-long trip or weekend!
No festival style was complete without a great shot of colour to the hair. Colour Xtreme Hair Art Colour Spray took hair to the next level with shocking oranges and playful reds.
Great jewellery was paired with the fun style as well. Bibi Bijoux's Snakeskin Orange Cuff Bracelet and the Navy Necklace from Boticca were great choices. Neither piece is heavy; the pieces move easily amidst the festival dancing!
Whether a celebrity or local festival fan, the ladies brought a great mix of summer festival fashion. Clothes were playful and light in fabric for daytime. Hair colour got mixed into the fun as ladies used hair art gel to create bright shades of reds and other colours. Festivals were great this summer, now on to the next season!