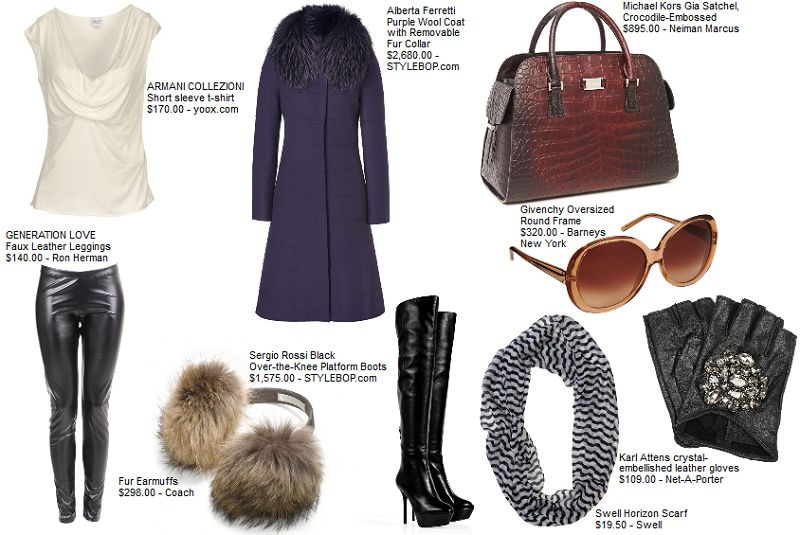 We're a little over a week from the kick off of NYFW. What I love about this season is that right before the shows, there are a number of activities that are taking place that I'll be hosting, supporting others and more. I'm spending my time running to showrooms to finish styling my clients who will be attending shows, brands who I'm styling their shows and some clients who will just be in the city as NYFW ends on Valentine's Day. How do you dress when you're in work mode and running around like crazy? I love to do it with the look above! I obsess over the perfect white shirt over a pair of leggings, fab over the knee boots scarves and some fab accessories! This takes me from me showrooms, event spaces, cocktails with friends in the city and those coming in and my fab clients that love grab sushi and cocktails. This is a great day to night look and one that works as you go.
I start with the basics - I love a short sleeve tee that's draped this is great to layer but even in this freezing weather, I opt for no sleeves this shirt by Armani Collezioni that can be paired with these faux leather pants (sexy) by Generation Love which elongates the leg. I love that you can add a cozy layer with this infinity scarf by by Swell. Complete the look with my go to, over the knee boots by Sergio Rossi.
Bundle up against the cold with these super cute earmuffs by Coach and this fabulous purple coat with fur trim by Alberta Ferretti - how cute is it when this is all together.
Now it's all about the accessories. My eyes are sensitive in the sun in the winter as the cold air definitely makes me tear up. Rock these oversized sunglasses Givenchy frames. Karl Attens has a fabulous pair of fingerless gloves accessorized with fun Swarovski Crystals. Since I'm always on my phone, it's easier for me to rock this look as opposed to having completely covered fingers. Finally, it's all about the bag. This Michael Kors satchel is the perfect way for me to bring everything I need. This is the perfect item for those fashionable errands, meetings and the tent.