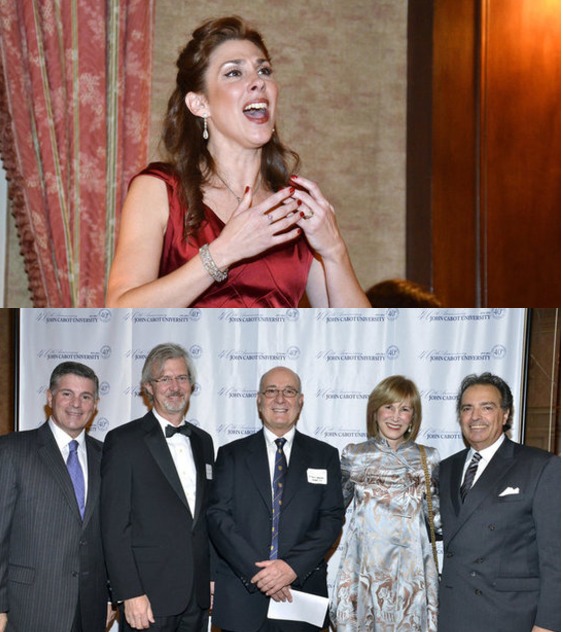 Last night, John Cabot University had a phenomenal gala event that we shared with you on yesterday's post. Above, we have Krista Adams Santilli who performed arias throughout the night as well as an image of a few notables including: Thomas Pecora; Claudio Del Vecchio, Honoree; Dr. Franco Pavoncello, President, John Cabot University; Valerie Salembier, Honoree; Steve Acunto, JCU Trustee, Gala Chair. We were so excited to hear that last night was such a success and are pleased that we had the opportunity to find out about Krista's style, how she became connected to this event and what we can see her in next!
<b.>How did you become involved with the gala taking place on Mon night and what does it mean to you to be involved?</b>
Steve (Stefano) Acunto, who serves as a Trustee to John Cabot University among his other roles as honorary Vice Consul to Italy, businessman, entrepreneur and patron of the arts, has heard me sing many times and invited me to sing at tonight's event.
As someone who took time to study abroad (two years in Italy and Germany), I believe whole-heartedly in the value of a study-abroad experience. It is a learning experience unlike any other, so I am honored to be able to support JCU in providing such opportunities to others.
<b>What has been your favorite performance to date?
</b>
I've been very fortunate in my career to have had the opportunity to perform in some pretty incredible places, throughout the US and on four continents. In the US I've sung at The Sears Center Arena, The Kennedy Center, The Reagan National Library, Giants Stadium and Carnegie Hall. I've also had the opportunity to sing for international diplomats, royalty and Hollywood celebrities, so I feel tremendously blessed. Two stand-out performances, however, were my solo recital at Carnegie's Weill Recital Hall in December 2011 and a Verdi's Rigoletto (for which I sang the role of Gilda) in Cheju-do, South Korea in 2001.
<b>Where can we expect to see you for your next performance?
</b>
I maintain a fairly busy schedule of concerts and cabarets in between larger projects, and these are always listed on my website, but my next big project is The Red and the Black, produced by Steve Acunto through his company, Capolavori Productions. The play, based on the Classic novel by Stendhal and written and directed by Deloss Brown, will debut at the Off-Broadway Theatre at St. Clement's in Manhattan (423 West 46th Street, between 9th and 10th Avenues) from January 17-February 3, 2013. I will be playing the role of Louise, the female lead, opposite Lucas Wells.
<b>Is there a role/performance that you have always wanted to do?
</b>
Oh, a girl always has dreams!!! Within the opera world, I'd love to sing Musetta in Boheme, Adina in Elixir, maybe Violetta in Traviata. In the world of Musical Theatre, I dream of playing the great female leads of the lyrical Broadway stage (Eliza Doolittle, Maria in both West Side Story and The Sound of Music, Clara in The Light in the Piazza, any of the three females in Les Miserables, Christine in Phantom, etc.). I also dream of cabaret and concert engagements with large orchestras
<b>What is your favorite song to perform?
</b>
Wow. There are so many to choose from. It depends on the venue, the event, the audience, etc. I maintain a varied repertoire, so I have several favorites from many genres. From the operatic repertoire, Musetta's Waltz from Boheme is always a crowd pleaser and lots of fun to perform. Poor Wand'ring One (The Pirates of Penzance) is also quite a thrill. Throwing a curveball, I also love to perform Don't Rain on My Parade and Etta James' At Last! ;)
<b>When you're performing at such events as the one this evening, how do you go about deciding what you will wear?
</b>
As in deciding repertoire, the venue, the event, the audience, etc., determine what I wear. Within the Classical music world, there's a general principal that's true for concert work: big hall, big dress; little hall, little (i.e., slimmer) dress. For Classical concerts, I would most likely wear a gown. For a cabaret concert or an intimate event like tonight's gala, a cocktail dress is appropriate. I almost always wear a dress (as opposed to pants), but the formality of the dress changes to suit the event.
Also, the repertoire itself often suggests certain colors. For example, if I were singing a sexy aria (one of Carmen's or Musetta's, for example) I might wear red while if I were singing the Queen of the Night aria, I might choose silver or black.
<b>With these intimate performances (when you are allowed to create your desired looks), what are your go to designers for your dress as well as your accessories?
</b>
In performance, as well as in my personal style, I tend toward Classic, Old-Hollywood Glamour. I'm drawn to timeless, elegant pieces with a bit of artistic flair, structured pieces in luxurious fabrics which celebrate the feminine silhouette. I tend to pick pieces rather than collections or specific designers, though Valentino is a favorite. The dress I'm wearing this evening is by Jax, and I've had a fair amount of success with that line. As for accessories, I look for pieces that compliment the look I'm going for with the dress. In general, I tend to be more conservative with accessories, wearing pieces that have sentimental value to me.
<b>When you are not performing, what accessory is your must when you are out and about?
</b>
I have a collection of scarves that I wear in the winter. (We singers tend to be very protective of our throats), and last summer I made a fun, flirty sophisticated hat (a' al Sofia Vergara) a signature piece. Shoes are always a fun accessory, as is my large Armani costume ring, which I wear almost always.
What designers would be on your wish me list when thinking about your styling options for performances? Hmmm…Valentino, Vera Wang and Marchesa for sure!