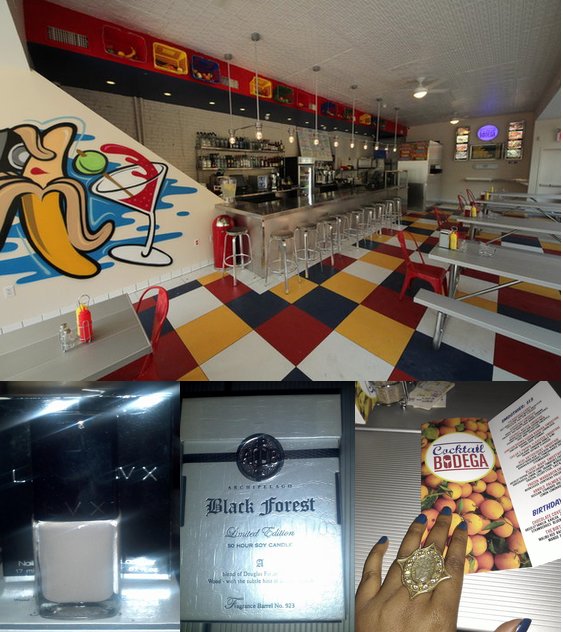 Monday night, a fab group of came together as I hosted yet another Style Tweetup with the theme of Fall Holiday Style. Huge thanks to our generous host, Cocktail Bodega whose team was super sweet to have us there to enjoy our event and to sample their food as well! Cocktail Bodega is on the LES and is from the fab team who created the uber popular Sons of Essex! If you're in NYC, you know your Bodega is essential to your day to day! It's where you pick up your necessities, grab a bite a drink and more. Cocktail Bodega takes the fruit smoothies and juices that we love and adds alcohol to them with a fabulous menu from Bravo's Chef Roble - my Cuban Quesadilla sandwich was phenomenal. Perfect bites to enjoy while hanging out with friends on a fall day! With a number of large screen TV's (we loved having the football game on), I can imagine that during the Super Bowl or any game day must be a lot of fun. In addition, they have a club downstairs as well!
As the host of Style Tweetup, I invited a group of friends including Casey Kettleson from Styled On, Samantha Lim and McArthur Joseph of Fashion Indie, Shoshi from Lifestyle Provocateur, Kitty Bradshaw of THE Kitty Bradshaw and my sister Dorian of Big Apple Style. With our theme, I wanted to share goodies that were essential to enjoying the festive holidays starting with Thanksgiving. We will continue to update this post to add in the posts of attendees. I want to thank the following brands that participated and definitely excited those that attended!
I was so pleased to introduce LVX, a nail polish line that is vegan, 5 Free and is not tested on animals! What I love even more about this line that was included in LA Fashion Week recently, is that their nail colors are not only on trend but you can trace them back to hues that rocked runways! I wore Prussian which you can see above which is a fabulous hue (huge thanks to Kitty for snapping a pic of one of the nail polishes she received which is a great neutral tone). Because I'm always out and about or taping segments, makeup is an essential to my routine. Whether it's applying it or keeping my face clean, I loved gifting Swisspers to everyone! We enjoyed the round exfoliates, the square ones which can also work well when removing polish and of course the sponges which are perfect for applying foundation! These are such an essential and you can never have too many. In addition, I loved including Jane Iredale Smooth Affair which is a primer and a brightener which will give you the perfect glow!
When traveling or when at home, candles are an essential! Black Forest soy candles were provided which has a rich scent and is one that is perfect for crisp nights by Archipelago and finally, we were also gifted by Jopen a luxury personal massager line which is made for women with products for men as well. We will continue to infuse these products within future posts over the holiday season as well as including them within our Holiday Gift Guide (Nov 15th) as well as our Last Minute Holiday Gift Guide (Dec 1st).