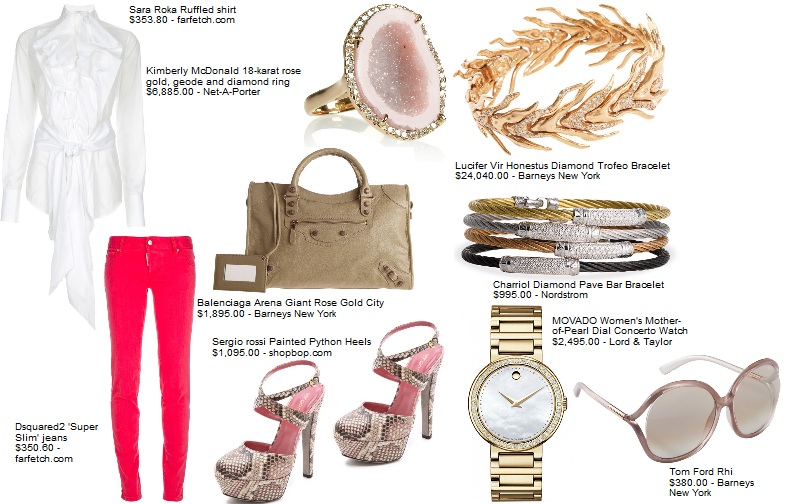 In the world of accessories, it's so hard for me to have a favorite as I'm always embracing a new pair of heels, a bracelet, necklace etc. As many of you know, as an Accessories Expert, I always lead Accessories Forward! I pick my outfits based on these gems and love the whole process of finding the perfect mix. This time of year finds me doing a number of activities within short time frames whether it's styling a client, working on my jewelry line, checking out presentations and more. It's all about an outfit that works and ensuring that accessories keep me feeling completely in my element!
Leggings and jeggings are a major component to my look and I love a great shirt whether it's a button down or tee. I love these DSquared Slim Jeans which are a great pop of color and of course showcases the colors of my brands. It's all about an ode to old school with this fab ruffled shirt by Sara Roka.
This is such a crisp look that with fabulous accessories can really make your look phenomenal. I love these Sergio Rossi Painted Python Heels which is a great way to make a number of your looks come together without a doubt!. Never one to shy away from fun bold accessories, here are my top picks! Balenciaga's Arena Giant Rose Gold City is a fabulous touch whatever you're wearing. My readers know that I have been such a fan of this brand's bags and with so many colors that are available, how can you not find a favorite! A recent fave has been Kimberly McDonald who has so many pieces that has come on my radar. I love geodes and have been rocking a few pieces from a number of designers but her 18kt Rose Gold Geode and Diamond ring is such a fab item. Arm candy is an essential and I have a number of bracelets from Charriol and love their pave bar diamond wrist love.
Complete this look by a few more dazzling details. Lucifer Vir Honestus Diamond Trofeo Bracelet is a dynamic piece that works well whether you're dressing something up or taking it to the next level. Although I'm not a watch girl, there are times when it seems appropriate - this would be NYFW as I'm always running from one show, showroom, etc to another and getting just enough time to hang out with my girls. Movado's mother of pearl watch with diamonds is perfection. Finally, my sunglasses are everything! NYFW has some early call times when I'm backstage and events go well into the night. To ensure that I rest my eyes, I'm always looking for the perfect pair and I have been in love with Tom Ford's Rhi sunglasses which bring out your inner Charlie's Angel to be sure!