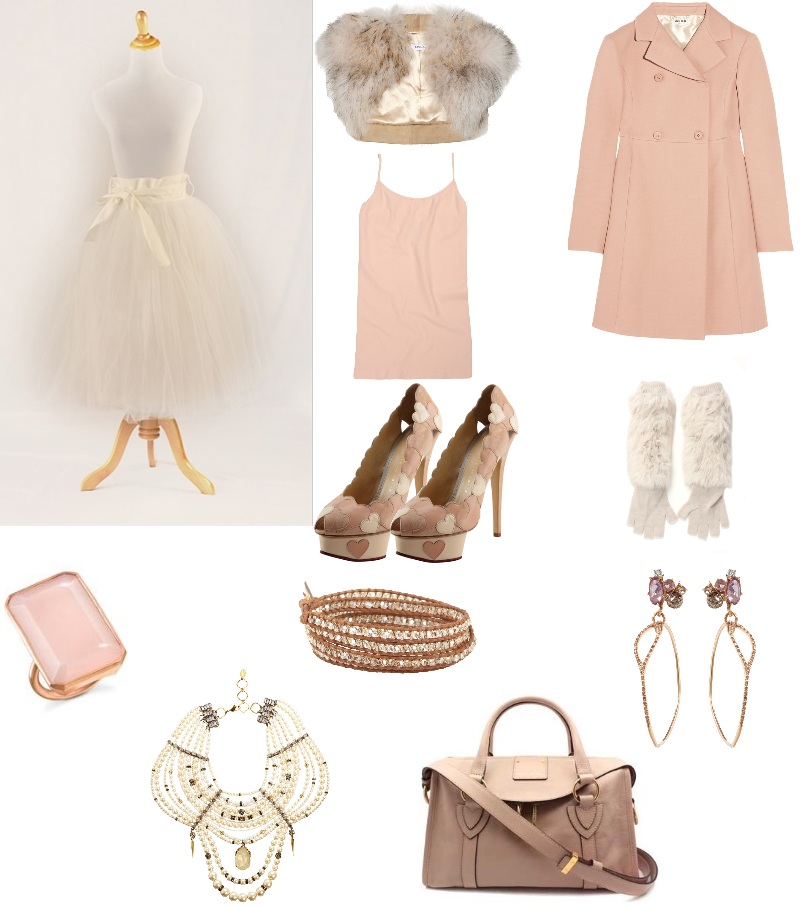 As you know, it's NYFW and it's definitely difficult to balance a super cute outfit when there is a blizzard outside. There are times when you definitely want to wear a cute outfit that's super cute and girly if it's for a special presentation, a dinner etc! I have a few key events next weeks that regardless of the weather, I will be rocking a cute outfit (and running in and out via a car service)! I have been obsessed with Tulle Skirts lately and was so pleased when I received a fabulous skirt to wear during NYFW and an opportunity to share a giveaway as well as a discount code with you! I will rock my skirt on the last day of NYFW which happens to be Valentine's Day as well but for those wondering how one can wear this look now or during the spring, of course I had to accessorize it.
With this tulle skirt, there's a lot of volume so I like items that are a little more fitting and create a silhouette by playing with proportions. This palette is about neutrals so I paired this Tees by Tina blush cami with this cream tulle skirt with bow. I actually wear tank tops year around and Iove this Liska fox fur bolero. Make sure you're warm when you're outside with this Miu Miu double breasted wool gaberdine coat which continues to keep the color flow. keep your hands warm and fashionable with these 3.1 Phillip Lim fingerless gloves (so you can continue to text as you shuttle across town).
Accessories are an essential with any outfit and I love that they can be worn with a number of looks. Typically, I never wear earrings but on special occasions it's nice to wear something different and I highly suggest these Federica Rettore sapphire, pink tourmine and diamond earrings which are a nod to geometria. One of my favorite accessories is a signature ring and this one by Irene Neuwirth is an opal in rose gold with an emerald cut. Wrap bracelets are always a fun way of making sure that you have a bit of a boho chic vibe in your outfit and this natural hued one by Chan Luu is perfect. I do love going over the top with a number of my necklaces is this piece by Erickson Beamon is perfection. This piece is also amazing to wear when you have a simple tank and jeans - it's definitely a conversation piece. These heels by Charlotte Olympia are so cute and are just the thing to wear for Valentine's Day or anytime that you feel like rocking hearts. Finally, the bag completes the look and this one by Marc Jacobs is a great way to make an appearance.
Today, I'm kicking off a fabulous giveaway which involves Shabby Apple as I love their Tinsel Town Tulle Skirt and there are a number of items that may tickle your fancy. You have the chance to win a $50 gift card with the winner to be announced on Feb 15th! Starting on Feb 15th, we will have a giveaway code that will be available from Feb 15th - March 15th for a 10% discount.
GIVEAWAY RULES:
* You must follow all of these to be eligible as one winner will receive a $50 gift card to spend as they wish.
* You must "Like" Shabby Apple on Facebook.
* Leave a comment on this blog post on Kitten Lounge sharing what your favorite item on Shabby Apple.
* You must live in the US in order to enter and have a US address in order to receive your gift card.
GIVEAWAY WINNER: Congrats to Amy Lynn for winning the $50 gift card to Shabby Apple! Please email Info@TheKittenLounge.com!