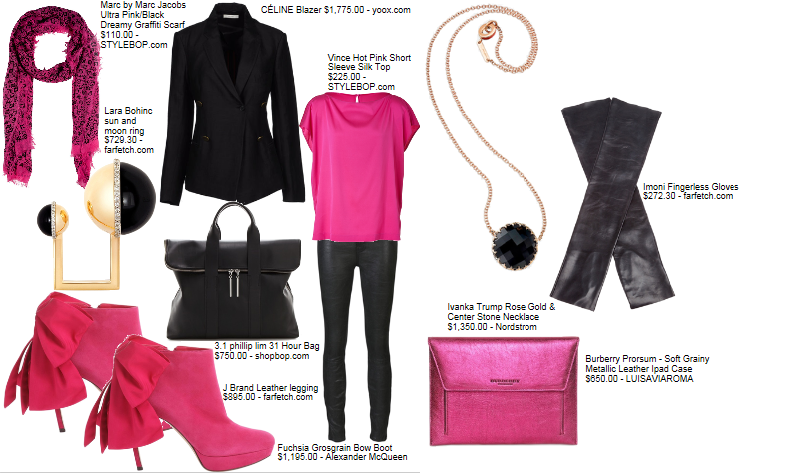 Growing up, I was all about black and grey - they were my favorite hues. I felt that it looked super chic and although I was right, my closet was devoid of a lot of colors that are necessary for a well rounded wardrobe. Then I moved on to college and I definitely fell in love with grey to such a point that I began to banish black and go the other way with this heathered tone. It was coming to NYC a little over 10 years ago where I learned balance and embraced other hues. When Kitten Lounge came along, I eventually came to the logo that currently sits on the site. To be honest, I was not a fan of pink; however, it's become a color I have embraced to such a point that I have it on in some way whether it's my accessories, tech accessories and beyond. This look is all about rocking 2 hues that continue to run throughout the outfit. I don't do it often so it's fun when I opt for this style. With NYFW being around the corner, I have a number of appointments in showrooms whether I'm previewing a line or am working on styling runway shows for this time of year. I live for fab blazers, leggings and great pieces that let me wear an outfit from day to night regardless of how my schedule evolves through the 24 hour clock.
As much as possible, I have begun to add pink within various apparel choices and if there is a signature event that I am attending, I definitely wear this as this color now works across all the brands that I have in addition to Kitten Lounge! I'm a huge fan of Vince hot pink silk shirt which is perfect in all seasons as it can be layered or worn alone. Pair this over black J Brand leather leggings which is another staple in my closet. Complete the layered look with this fab Celine blazer (love the button detailing). I love rocking a fab scarf and have to admit that that portion of my closet just continues to grow, this one by Marc by Marc Jacobs is perfect.
I then think of my fun pieces and in this case, I'm loving these Alexander McQueen grosgrain heels with a bow - it's sweet and yet edgy. Geometria is in full swing with this Laura Bohinc sun and moon ring which is a conversation starter without a doubt. Ivanka Trump's necklace adds in a bit of heft and old world glam while these fingerless gloves by Imoni bring edge as well as allowing you to work on your phone as you're running around - I'm never without fingerless gloves.
Finally it's all about the bags. iPads are necessary in all that I do so keeping them safe while stylish is essential. This Burberry Prorsum metallic pink leather case is perfect and fits within this 3.1 Phillip Lim bag with a great slight foldover detail. Together it's a fab look or a great way to think of pieces that you wish to add into your look but to rock another way.