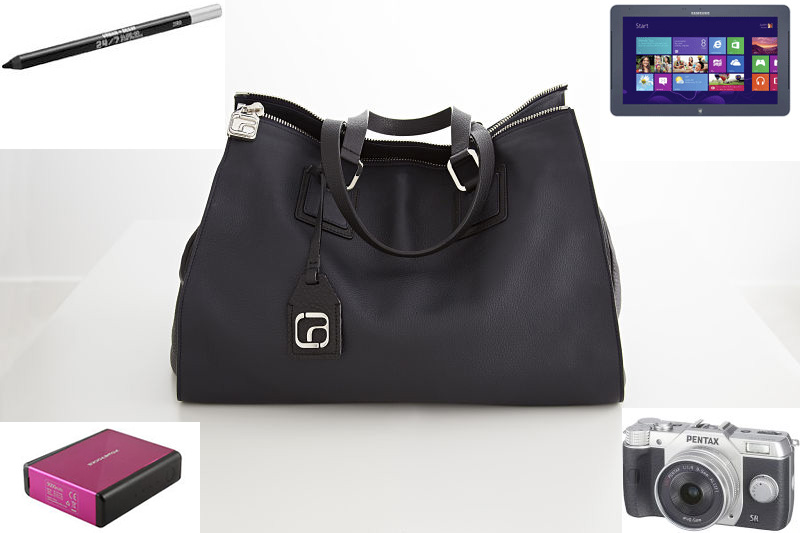 Can you believe that the year is quickly coming to a close? I feel that the holiday time is about gifting others but lets you figure out what you would like to have for yourself. When people ask me what I have or would love to have, a lot of my ideas come from items that I already have which I know are great to have for your day to day!
Now my wishlist item is Love Alex's Ornella bag which is amazing as a large purse and has great visual texture. This is one of those bags that work well when you're running around the city or when you need to do a number of errands without having to have so many bags - it's all about keeping it chic. I love that this entire brand has a number of fabulous handbags (even some of the clutches have a large chain which can double as a necklace) where when you purchase items proceeds go towards charity!
In terms of what I use from day to day that are an absolute must that I believe is great for your everyday use, I have a few items that are perfect as a gift OR as stocking stuffers. I've been a fan of Urban Decay Cosmetics for a number of year - specifically their 24/7 Eyeliner in Zero which is the perfect black which lets your eyes pop with an edge of rocker chic without being too dramatic.
Outside of beauty, there are electronics that I use everyday and take with me no matter what. I love my Samsung ATIV Tablet which I received earlier this year as an Intel Tablet Crew ambassador. Although it came with Windows 8, when I joined the Office Champions program and went to Seattle for their Champions Summit, I upgraded to 8.1. This allows me to stay connected with everyone that I need to, enjoy my tablets at the touch of my finger while being able to see them side by side. As I'm always looking for inspiration, I not only take pictures on my Nokia Lumia 925 which has great quality but I use my Pentax Q10 as well whether I'm checking out window displays, visiting showrooms and working on portions of my collection. Finally, I keep everything running by my Powerocks. This is a must have charging tool as it plugs into my phone, my tablet uses it and so much more. You can charge it up and then just bring it with you. This has been such a lifesaver as you won't have to bring as many cords with you to keep things charged.
I love that these can be great gifts but can also be perfect for your day to day so that you can get work done on the go which is always an essential.