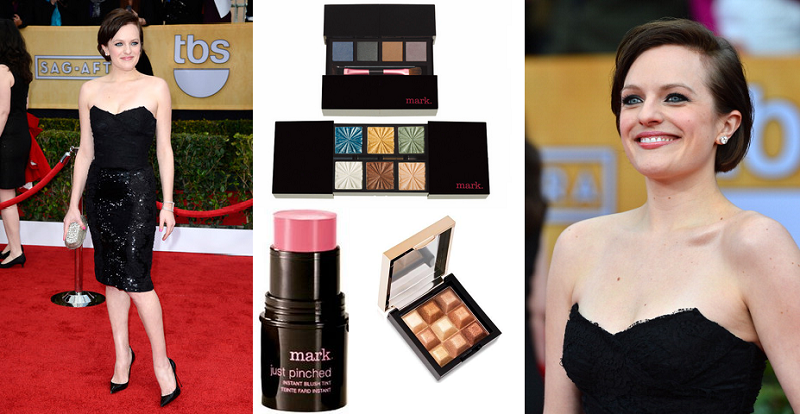 <iframe width="800" height="450" src="http://www.youtube.com/embed/r0EQ73LD8LE" frameborder="0" allowfullscreen></iframe>
With the red carpet wrapping and the SAG Awards on their way to honoring actors by actors, I had to share a fab look from one of the attendees hitting the red carpet! You too can get this fabulous look as well since we're sharing how AMC's Mad Men (which is airing its 6th season, 2 hour premier on April 7th) Elisabeth Moss obtained the look. She wore a stunning Dolce & Gabbana and accessorized it with $1M earrings from Forever Mark and Jimmy Choo heels and clutch.
mark Makeup Artist Jamie Greenberg worked with Mad Men star Elisabeth Moss for the SAG Awards. Jamie and Elisabeth wanted to keep the look down to earth with a chic French street touch.
<b>Face:
</b>
Started with mark's Min-A-Real Cream to Powder Foundation and layered on mark's Touch and Glow in Warm Glow on the cheeks with a swipe of mark's Just Pinched Instant Blush Tint in Cheeky. Set the look with mark's Set Things Right Loose Powder.
<b>Eyes:
</b>
Started with mark's Please Hold Eye Primer as a base. Used i-mark in Luv Struck in the crease then blended in the black shade in mark's Drama Case Eye Shadow and Liner Palette on the lash line.
She added i-mark Metallic in Lava on the lid and finished the lash line with mark's What A Line Felt Tip Eyeliner in Twilight. Applied false eyelashes and two coats of mark's Scandalash Mascara in Blacklash and filled in the lower lash line with mark's No Place to Run Longwear Eyeliner in Jet set. Finished the eyes with one coat of Scandalash Mascara in Blacklash on the lower lashes.
<b>Lips:
</b>
<b>Body:
</b>
UPDATE Love this video with Jamie showing us how she created her look. In addition, I love that we get to see her face prepped as well as her hair team, it's always fun to check things out behind the scenes.