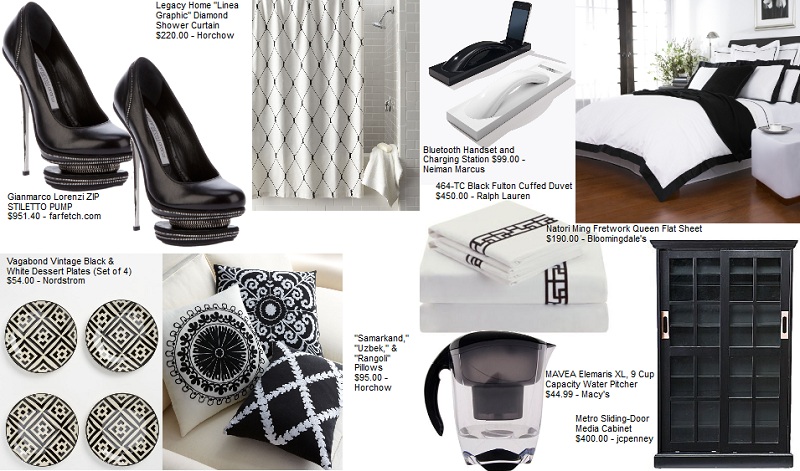 As I always say, you never know when inspiration strikes and mine came with this fabulous pair of Gianmarco Lorenzi Double Platform Heels (trademark of this fabulous designer) with exposed zipper detailing within the exposed platform. The detailing of this black shoe allowed me to carry this over into great decor options that can add some pop throughout your home!
In the bathroom, add details such as this black and white Legacy Home Linea Graphic Shower Curtain which has a nice architectural feel. Moving into the bedroom, flatsheets by Natori are another classic with a twist as they have a Ming theme on them. Pair this with bedding by Ralph Lauren as it's a classic that never goes out of style.
Moving into the kitchen, I am a huge fan of Mavea as we use this throughout the day, unlike my Penguin which turns my water into seltzer, this container purifies water and can hold large amounts. Paul and I drink from this everyday and many times, my water filters here before being used for my Penguin or Breville (tea maker that I am also obsessed with). In addition, I love fun dessert plates as these are perfect when you're having something sweet or you want to eat from a smaller plate, I love these Vagabond Vintage Black and White plates.
Moving into the living room or wherever you choose to relax in, I think having a Media Cabinet is a must! You can store your media in here OR it's great in your office if you want to store your accessories which is also another fun way to display as well as organize them. Add fun pillows to your space from Horchow which has visually appealing graphics. Finally, we're always charging our tech everywhere and sometimes you just want to talk with others on a phone (you know the ones we grew up on), so these Bluetooth Handset and Charging Stations available in black and white is perfect and adds a bit of pop in your decor!