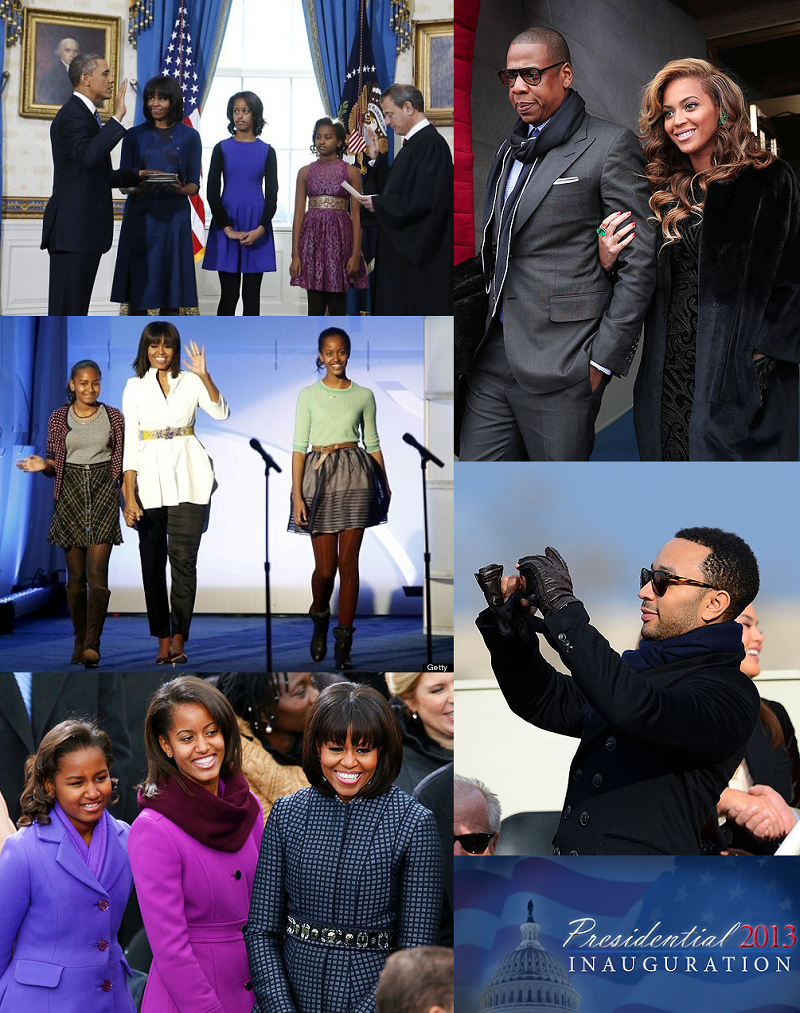 We're not finished with inauguration day activities but we had to share our highlights over the weekend as well as what took place today as President Obama was being sworn in. We love the looks that everyone has been rocking. Michelle Obama (how much do you love that she has her own Twitter account to share her thoughts with us - @FLOTUS) and her girls looked amazing during the Kids Inaugural Concert this weekend with performances by Usher and Katy Perry.
Yesterday, Obama was sworn in to office for another term in the White House and had his fabulous family by his side. Michelle wore a Reed Krakoff dress and matching cardigan in blue, the color of the party. Malia wore a cute dress which was on trend with an age appropriate color blocked dress (which was created by simply layering a long sleeve top under a sleeveless dress that she wore while her father campaigned). Sasha wore purple Plenty by Tracy Reese dress named, Mariposa (you can still snag this piece and we love how Sasha updated this look as she had worn this ensemble before) and added oomph to the look by pairing it with a gold sash to create a belted look and a flare in her outfit. Both opted for - tights.
This morning, a number of stars were present at the inauguration including John Legend, Jay-Z and Beyonce (who sang the national anthem immediately after President Obama was sworn in). Jay-Z looked dapper wearing a Dior suit. Beyonce was a vision with a Pucci dress, Dior coat and stunning jewelry by Lorraine Schwartz which looked phenom and were making statements of their own as she walked in and sang (without her ear piece). Michelle and her daughters looked fabulous as usual. Michelle had a coat by Thom Browne in navy with a dress whose fabric was inspired by a man's silk tie (love when menswear goes femme). I love that during the swear in, her legs were exposed and the coat was not accessorized and she completed the look with kitten heels from J.Crew. This look was accessorized (when she was getting ready to walk) by Reed Krakoff boots, a jeweled belt and gloves from J.Crew and Cathy Waterman earrings as she headed to the parade after the swear in. This entire look is slated to go to the National Archives!
Her mini style mavens rocked cute looks as usual. Malia (the oldest) wore a Double Cloth Lady Coat in plum (love that you can still snag it) by J.Crew. Her sister, Sasha, wore a Kate Spade coat and dress.
We can't wait to see what the family will don for tonight's events and we'll keep you in the loop!
<i>UPDATE: 01.22.13</i> Racked reported, that during the Today Show, Jenna Lyons, Creative Director of J.Crew will be retiring the color of the Lady Coat that Malia wore. Although this style has been a staple within the brand's line, out of respect for her to have her moment, the color will no longer be available. The belt that Michelle added to hear Thom Browne coat, was actually a bedazzled bridal sash from the line and this too will also be retired! If you were able to snap up these finds (or still can) fab - if not, the hunt continues!