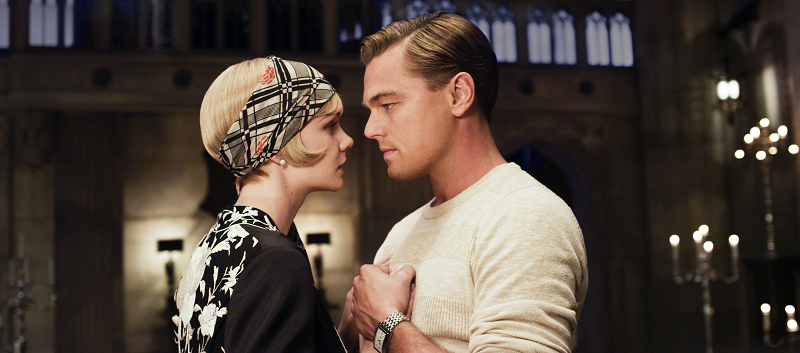 <i>GG-06432r: CAREY MULLIGAN as Daisy Buchanan and LEONARDO DICAPRIO as Jay Gatsby in Warner Bros. Pictures' and Village Roadshow Pictures' drama "THE GREAT GATSBY," a Warner Bros. Pictures release.
Photo courtesy of Warner Bros. Pictures</i>
The Great Gatsby, Scott F. Fitzgerald`s famous novel about the roaring 1920s, has inspired a look all its own. Meant to be a blend of modern style with the fashion earmarks of the novel`s decade, getting the Great Gatsby look is all about accessories and pairings.
<b>Hairpieces
</b>
A sparkling hairpiece that stands out is a must-have part of the Great Gatsby look. For example, try a jeweled headband with ornate etchings or an accent stick with a jeweled end placed through a hair knot.
When you`re looking for hair accessories, make sure you`re sticking to pieces that reflect the time period. Dull golds, silver and diamonds are the best way to go. Clear gemstones were more common than colored ones in the hair accessories of the era.
For headbands, try to find bold, swirly patterns as opposed to the traditional U-shaped style. Hairpieces were immediately noticeable in the 1920s and should not be easily hidden by your hair.
Jewelry
Pearls are a surefire way to introduce the Great Gatsby look into your style, especially long and knotted strands. Choose traditional pearl colors, such as white and pink. Darker colored pearls were not common in the 1920s.
Earrings and rings should be "baubles," or large and noticeable. Pearl and diamond accents are preferable with silver or neutral tone dresses, but look for colored gemstones if you`re going with a color theme. For example, if you have a green dress and shoes, you can use accenting emerald-hued stones in your jewelry pieces to set your entire outfit off.
Dresses
A traditional flapper dress is beaded and should make some noise when you move around in it. While the dresses vary in length, often showing the knees, cleavage was often minimal. Look for dresses with higher fronts and a rounded or uneven bottom to get the correct look. Fringe is a must in a dress in the Great Gatsby style.
You have a wide range of colors available, depending on what level of Great Gatsby style you`re aiming for. If you want to go bold, try reds, golds and greens. For a more traditional look, stick to silvers, grays and variations of light brown, such as gold and shiny tan.
<b>Accessories
</b>
Gloves, feathered boas and cigarette holders and cases were all popular in the 1920s. If you decide to go with gloves, stick to basic colors in a satin material. Gloves should be full length, past the wrist.
Purses were smaller and often matched the dress in the 1920s. Look for beaded or fringe purses, particularly clutches or other small evening purses, to complete your look. Try to find a purse that matches or complements the colors present in your dress.
<b>Shoes
</b>
Heels were a part of most flapper outfits, particularly high heels in a traditional style. While not as comfortable as the sneakers on Etnies Shoes, higher heels in a neutral shade are preferable for the Great Gatsby look. Try on heels beforehand so you go the highest you can without being uncomfortable.
<b>Muriel Vincent
</b>