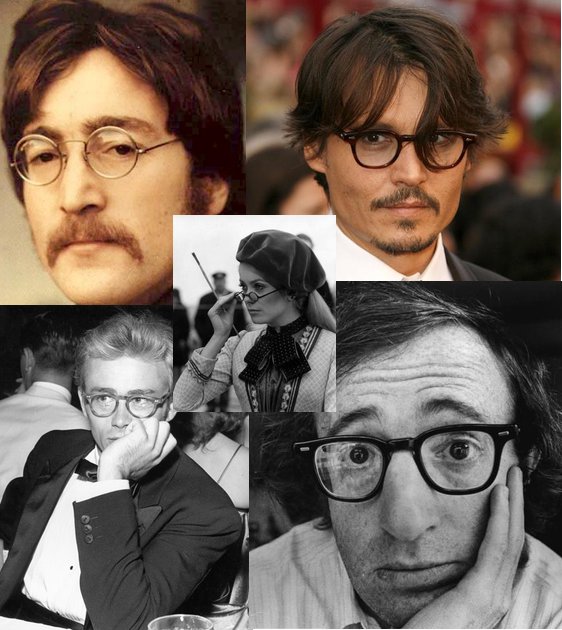 When it comes to fashion, celebrities and the stylists that work with them, create signature looks that have admirers seeing how they can wear the same thing. Over the years, A-listers have helped make everything from the mini skirt to Ray Ban shades to gain not only popularity but icon status. This is why fashion houses all over the world from emerging to established ones continue to look for opportunities to dress as well as to select muses in order to identify their brand's target – you!
Through their movies, TV shows and magazine spreads, the red carpets are no stranger to a number of fashion categories and thus, eyewear is a key accessory that we have all noticed. An accessory once seen as geeky is now the last word in refined cool thanks to a whole host of long and short-sighted stars. Here are some of the famous names that have proved that wearing glasses isn't just a practicality, it's downright sexy.
John Lennon ~ The 60s saw girls screaming and fainting in droves at the mere mention of the Fab Four, with John and Paul topping the list of every girl's dream date. When John Lennon first appeared in his now iconic round rim frames, the screaming didn't stop. Instantly turning this stylish vintage frame design into a must-have fashion item, even fans with 20-20 vision took to wearing false round rim frames to imitate their favourite Beatle. Still a statement frame today, John Lennon not only helped to make glasses cooler than cool, he made the round rim frame one glasses design that never goes out of style.
<p>
Catherine Deneuve ~ While the Fab Four managed to make glasses cool, French screen siren Catherine Deneuve helped give glasses sex appeal. Both onscreen and off, her powerful brand of femininity proved that glasses can be elegant, accentuating beauty. Deneuve loved glasses so much that she decided to start designing her own range for women, which you can find online at Lensway. Her designs are vintage-inspired, with a modern, feminine twist, creating delicate, ladylike frames that bring instant glamour to the world of eyewear.
Johnny Depp ~ Known for his iconic, offbeat roles in films like Edward Scissorhands and Cry Baby, Johnny Depp is not your average sex symbol. Along the way, Johnny has made his signature horn-rimmed frames, and often colourful tinted lenses, his own, helping make vintage frames the style of the moment today too.
</i>James Dean</i> ~ Leather-clad, motorcycle-loving and deliciously moody, James Dean's tough-guy image remains iconic today. While you're more likely to see him in his all-American white t-shirt and leather bomber uniform, take a look at any image gallery of him offscreen and you'll see he was also a spectacle wearer. His glasses helped to soften his screen idol image, revealing a refined, intelligent, sensitive side, and proving that you can be a rebel and still wear frames.
Woody Allen ~Like John Lennon, Woody not only helped make glasses cool, he also succeeded in cementing the iconic status of one particular style – the Ray Ban Wayfarer. These bold, thick rim frames have seen a major comeback in recent years, especially thanks to the popularity of the sunglasses variety. While Woody remains the classic nerd's nerd, geek chic is in these days. With everyone from Justin Timberlake to Jay-Z sporting Woody's classic frames, his glasses helped transform him into an unlikely fashion icon.
You can find a wide selection of glasses influenced by these celebrities and others at http://www.lensway.co.uk/glasses.