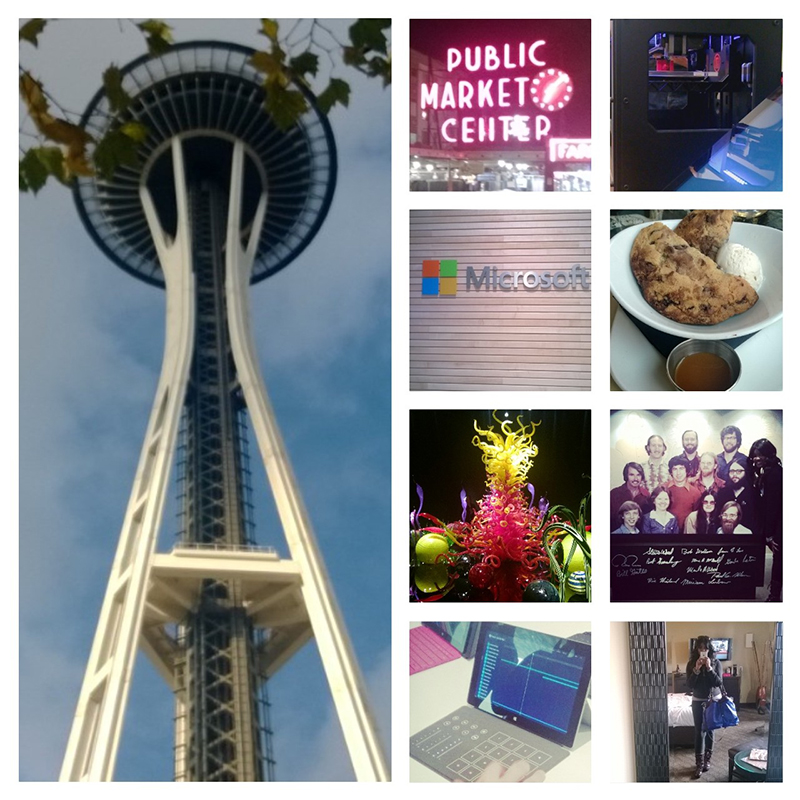 November has a busy month without a doubt! I kicked it off with heading to Seattle as I am a Brand Ambassador within their Microsoft Office Champions program! On my first visit to Seattle, I knew I was going to be able to learn more about Microsoft, their programs, initiatives and items that are top secret to be sure! In addition, I knew that I would be able to learn more about the city as well! It's always great to enjoy an immersion trip which is the best of both worlds in terms of product knowledge and knowing more about the city that you're staying in - this was the intent behind this year's Champions Summit!
On my first day in Seattle, I was able to reconnect with a number of the people that I knew from NYC, received welcoming gifts and to get an overview on what to expect. Although my room wasn't quite ready at the Hotel 1000, I'm glad that I had the option to do a little sight seeing which included riding the Seattle Big Wheel (I opted out of the underground tour as I felt that that might be a bit much for me). Upon returning, I was able to get in and enjoy one of the key points to staying within this hotel - a fabulous bath which is one of the best that I have had. Before we went out to dinner on the pier (which was amazing), I loved that we had a great cocktail hour that introduced me to 8.1! I had been using my Samsung Windows Tablet (which I received as a member of the Intel Program) which ran on Windows 8. Seeing the ability to slide apps together to show them within the same screen as well as a few apps that was geared towards 8.1 made me want to upgrade immediately. The ease of being able to learn in an informative yet relaxed way with cocktails was an added bonus!
Day 2 was definitely a nuts and bolt day without a doubt to start. Immediately, I began having my tablet upgraded to the new system as we learned about a number of Office 365 programs including OneNote (which I have used on and off but got a great grasp of in this session) and SkyDrive as well as Windows Phone. Now I have been using Windows Phone since 2011 as I have the Nokia Lumia 925 (recently received in August via the Windows Team at the pre-party for MTV VMA's in Brooklyn. I do love knowing that I now know that pushing the camera button turns it on without me going through the main screen and then pushing the app.
After taking notes and talking about the above, it was time to do some site seeing. I visited the Chihuly Garden Glass Museum which was definitely something that I am so glad was incorporated into the trip. At first, I didn't think I was familiar with the artist but then I realized that this Seattle native has been commissioned to do a number of pieces including having his works within the Bellagio. Dale Chihuly is known for his hand blown glass and being able to see a number of the pieces as well as to eat within the restaurant that was included was such an amazing time! This exhibition was within the space, glass house as well as having installations outside. Next to this was the Seattle Space Needle which allowed me to have an amazing view over the city as well as to see Mount Rainier. Upon leaving, we headed over to Pike Place Market to have a walking tour from Savour Seattle. Not only did we see the famous space that is known for the fisherman that throw fish, but it was interesting to see the gum wall, learn about the public service that this space provides, the purpose of the famous pig and so much more! With a little downtime at the hotel, we had another session that showed us apps that I have been obsessed with since that day Fotor as well as video editing software. Of course we had another amazing team dinner and prepped for the day that I was the most excited about!
My final day in Seattle was one that I had always wanted to do! We went to Microsoft headquarters for the majority of the day! It was amazing to visit an area that showcased what Microsoft is working on in terms of the future and due to its proprietary information, I can't reveal what was seen but it's exciting to see how technology will continue to be seamless and intuitive! Next, I was able to get a true understanding of the depth of 3D Printing! From materials, vendors and the extended capabilities - it definitely gave me a new appreciation for this form of creativity. Avid readers can see via my social networks as well as posts on this site how I have integrated my new knowledge of this. We continued on to learn more about X Box One, Bing, SEO and Surface 2 as well as Surface Pro 2. Although there was a dinner, I had to head to the airport as I was on my way to Barcelona for a press trip.
This trip provided the opportunity for me to not only visit a city that was new to me but to also learn about Microsoft with their team directly! There was a great mix between things that I worked on frequently and those that were new to me. There were chances to utilize what we learned in organic ways that allowed the application to seem natural.