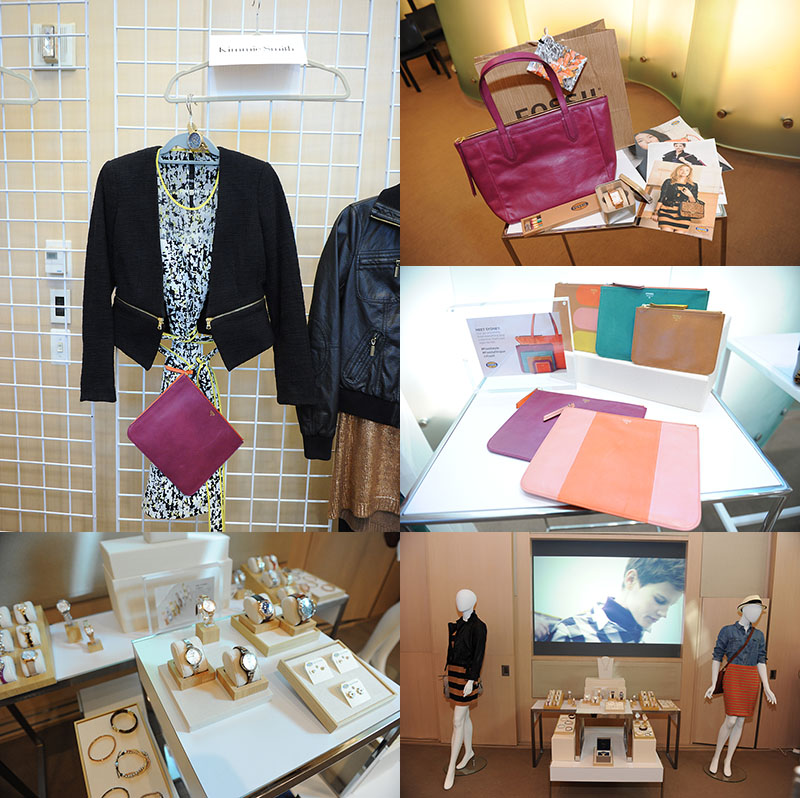 Earlier this week, I headed over to Vogue to check out the new Fall and Holiday Collection from Fossil at the offices of Vogue. In addition to seeing the line handbags, bracelets, earrings, watches etc - they pulled apparel from their advertorial partner so that they could complete the overall look within 3 trends. Trends included animal print, stacking bracelets and watches as well as creating pops of warmth within the look.
I love the idea of popping in warm colors and so I took this fun day dress from Kate Spade and paired it with this textured "basket woven" cropped blazer from Express. In terms of Fossil, as the outfit is grounded in black with a pop of white and yellow, I styled it with the Sydney Large Zip Pouch in Magenta with the Constellation large face watch that will be available during the holiday season. This look is perfect for heading to meetings and going out for drinks after work. The only thing missing was finding seriously fun heels to add to this look (obviously this would be said by an Accessories Expert and Co-Founder/Creative Director of Shoe Week.
In addition to styling, we were introduced to the collection and of course we left with fun pieces to continue adding to our look with the Sydney Shopper in Cranberry as well as the Rose Stainless Steel Watch which has a large face. Check out other great finds that we were able to see and style.