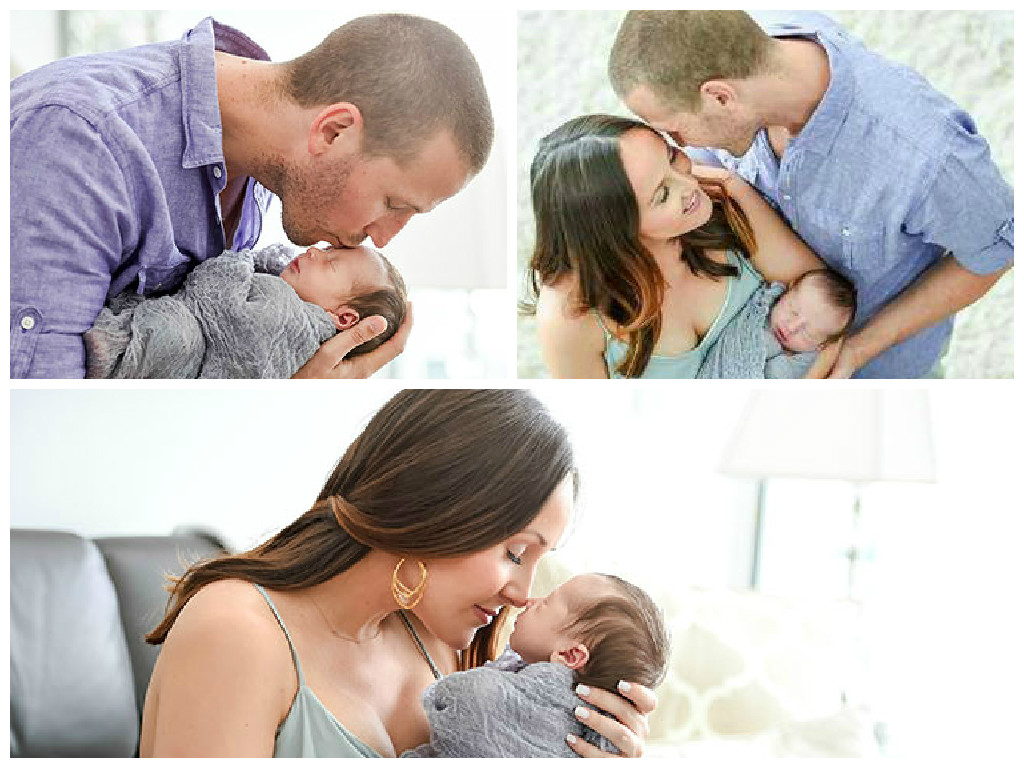 I am such a fan of ABC's The Bachelor and Bachelorette between seeing the people vying for the love and affection of their intended, hometowns and the madness that ensues - my Monday nights have been booked through a number of seasons to watch what happens during the look for love! I had some time to chat with JP Rosenbaum and Ashley Herbert who recently gave birth to Fordham Rhys Rosenbaum (Fordy) last fall (these pictures were US Weekly exclusives). I had to find out about who they think Chris will choose, what it was like when it was during their season and why they have partnered with Puffs for their young family. I grew up using Puffs and I bring them on set with me when I'm fashion styling my shoots and with this weather, it's an accessory that I never leave the house without!
With The Bachelor being down to the final two, what is it like during that downtime in terms of waiting for the final dates and then the selection What did the two of you do off camera in terms of collecting your thoughts and preparing? I'm sure that elements of this will be done by the final two and Chris?
Ashley: This time is arguably the most difficult part of filming. We spent all of this downtime thinking about our feelings, our last date, and overanalyzing everything that was said and done. You don't have a phone, a television, internet, or even a book, so you are left to sit and think about your feelings over and over again. This downtime is very unique because it's probably the only time in our lives where we weren't distracting ourselves with technology, or searching for answers to our questions within other people; the only place we had to look was within ourselves.
J.P.: There is certainly a LOT of time to think, but at this point in filming, everything in my mind was pretty clear and I just wanted it all to be over so we could be together and start the next chapter of our lives together. I was pretty confident in the outcome, so I tried just to enjoy myself. It was also probably the most relaxing time in my entire life. No responsibilities and simply living the life in beautiful Fiji without a care in the world.
Who do you think he will choose and who do you think could be the next Bachelorette?
Ashley: We both think that Whitney and Becca would be good choices for Chris. They are both sweet and smart, and it's obvious that this is the type of girl he is looking for. Most people like a girl with an edge, but it seems like Chris likes the girl-next-door type of girl. If we had to choose one, we would say he would pick Whitney because she is certain about her feelings for him. Becca is slow-moving with her feelings, but we think she would be the better choice for him in the long run.
We think the next bachelorette will be Kaitlyn. She is cute, sweet, smart, funny and she has that edge that America loves!
I enjoyed watching your season and now that you have been away from that environment, got married and have a child, what advice do you have for someone who is looking to participate within an upcoming season whether they are the Bachelor/Bachelorette or one of a larger group of people that are vying to win a coveted spot in someone's heart?
Ashley: We had a great experience on the show, so we would urge anyone that is in the right mindset, and in the right point of his or her lives, to definitely do it. Just be yourself, don't be overly eager, don't force anything, and enjoy the magic!
J.P.: Agreed. The odds are certainly stacked against you with regards to coming out the other side happy, in love and engaged. Just don't put too much pressure on yourself, don't go in with any expectations and just be YOU. Oh, and most of all have fun! This is a once in a lifetime experience that not many people get to have!
Lucky you that the two of you live in Florida but in NYC, and in many areas it has been pretty brutal with the weather so any comfort is better than none! Why did you choose to partner with Puffs and how is it beneficial during cold and flu season?
Ashley: As new parents to a 5 month old, we've become increasingly aware (paranoid) of illnesses and the discomforts that go along with them. We've partnered with Puffs to help bring awareness to the importance of staying healthy, and to help provide relief from the symptoms of a cold. Puffs helps you to put your best face forward during this terrible cold and flu season.
I love life hacks and use a lot of them as I am a fashion stylist and I bring Puffs (love the packaging and the fact that it is soft sided which makes it very portable) on set to actually assist in some of my styling needs. Do you guys have a lifehack that you use Puffs for that may be beyond the typical use of blowing your nose, using as you cough, etc.?
Ashley: We always carry Puffs in our diaper bag, but we also have them scattered around the house for the sudden drooling episodes from our teething 5-month old. They work like a charm, and are so soft that they don't cause irritation to his face! It makes for one happy baby and Mommy!