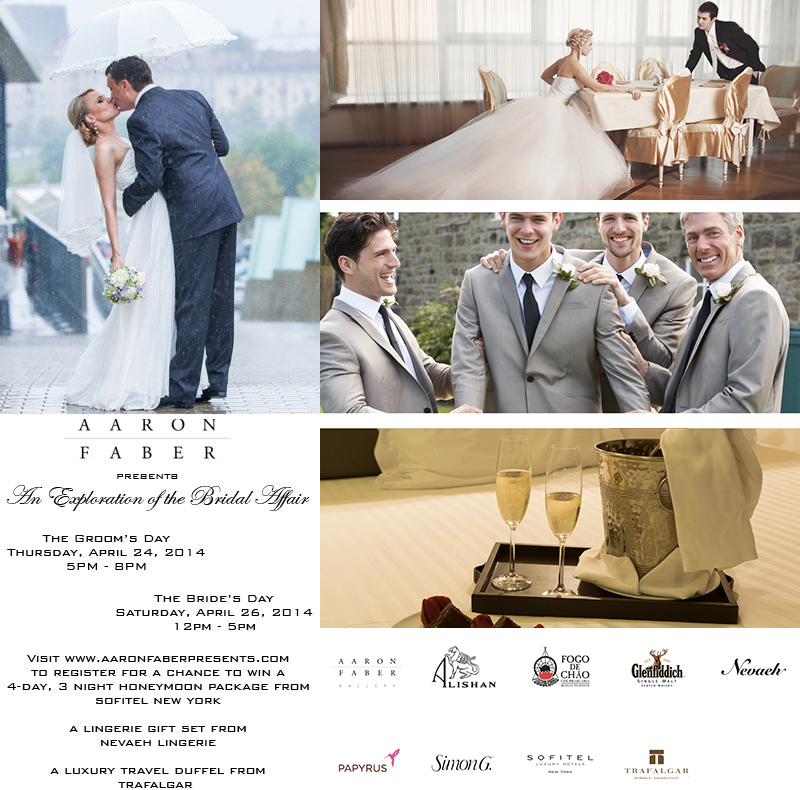 Wedding bells will ring all over the world but none louder then my sister's wedding which takes place today (note that I am in Tokyo and it is Saturday early morning here - so in less than 12 hours she makes it official)! With that said, I would love to share with you two events that will take place at the Aaron Faber Gallery in NYC which is entitled, The Exploration of the Bridal Affair. For two days, you will enjoy two bridal experiences starting with Grooms Night Out which will have a scotch whisky presentation and tasting by Glenfiddich Scotch Whisky. In addition, Trafalgar will showcase how your groomsmen can be dressed for the big day. The house of Alishan will have Alishan Halebian on hand to present his rough diamond bridal jewelry. Catering will be provided by Fogo de Chao.
On The Bride's Day, Simon G along with Alishan will have a stunning collection on view. In addition, Papyrus will present a display of stationary for the special events in their lives. To ensure that the bride remains in bliss, Trafalgar will share how the bride's groomsmen will look on their day. Nevaeh Lingerie will have a presentation to showcase how one should look on their honeymoon night. The Sofitel New York team will show brides how to bring this all together in order to make it a great experience. Fogo de Chao will have sweet treats on hand for this event.
During both events, Aaron Faber staff will be on hand to showcase collections that would work as perfect gifts for the bride and the groom. In addition, there will be Bridal Affair Giveaways including a Bridal Affair Honeymoon Package from Sofitel New York, Nevaeh Lingerie Bridal Affair Set and a Trafalgar Lincoln Square Duffel. To ensure that you can attend this event which has limited space, make sure to RSVP to The Bridal Affair for Grooms Night Out (April 24th 5 - 8pm) and The Bride's Day (April 26th 12 - 5pm).